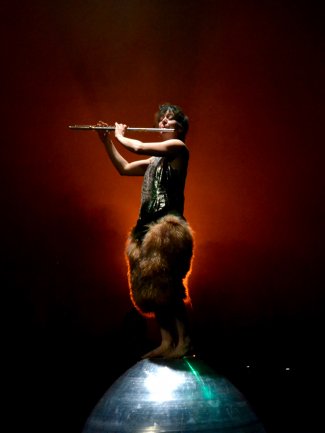 Claire Chase performs with the Helsinki Philharmonic Orchestra
2/3/2021
Claire Chase returns to concert stage for the first time since March 2020 to perform Felipe Lara's solo work Meditation and Calligraphy, followed Kaija Saariaho's Aile du Songe for flute and orchestra with the Helsinki Philharmonic Orchestra under Susanna Mälkki on 3 March at 7pm (5pm GMT). The Orchestra starts the concert with Siri Brander (arr. A.E. Westerlind)'s Elegie and Haydn's Symphony No. 92 Oxford concludes the evening. The concert is broadcast live on Yle Radio and live-streamed here.
Helsinki PO, Mälkki, Chase and Esperanza Spalding were scheduled to give the European Premiere of Lara's Double Concerto last March and the short solo piece tonight gives a taste of Lara's music in advance of their reunion next season.
In December 2020, a special four-album compilation of Claire Chase's Density repertoire between 2013 and 2018 has been released on the Corbett vs. Dempsey label. The recordings were produced by John and Helen Meyer at Meyer Sound Laboratories in Berkeley, CA, with Matias Tarnopolsky as session producer and Dave Dennison as recording engineer. Claire Chase utilised the range of Constellation's capabilities and the recording process is true to a performance with no editing or post-production. Everything is from a single take with the perfect sound balance achieved through Meyer's Constellation technology. The album covers are created by the renowned visual artist Jorinde Voigt.