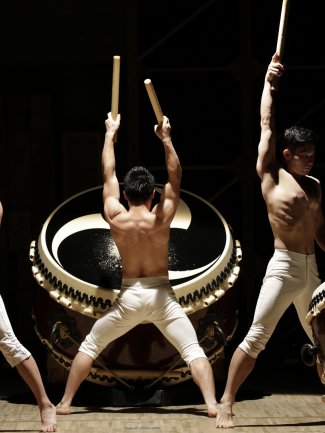 New Album Collaboration: ​

"

Kodo Together"
24/5/2021
Kodo are thrilled to announce the upcoming release of Kodo Together —a new ground-breaking work curated by Kodo and Pitch & Sync.
This album, set for release on 9 July, showcases the boundless versatility of Kodo's music through collaborations with an eclectic mix of leading international artists from different genres and corners of the globe, including Jamaica, Iceland, Italy, India, the U.S.A., South Africa, and the U.K. Collaborating artists include: ELKKA, RUFUS WAINWRIGHT, KEVIN SAUNDERSON & JUSTIN CHOLEWSKI, ANDREA BELFI, EQUIKNOXX, SKREAM.
Hailing from Japan's Sado Island, Kodo explores the taiko's limitless rhythmic possibilities. Kodo's international tours are called ​"One Earth" , a theme that embodies Kodo's desire to transcend language and cultural boundaries, all while reminding their audiences of the common bonds we all share as human beings. HarrisonParrott is proud to continue their collaboration and the 2022 tour details will be available soon.