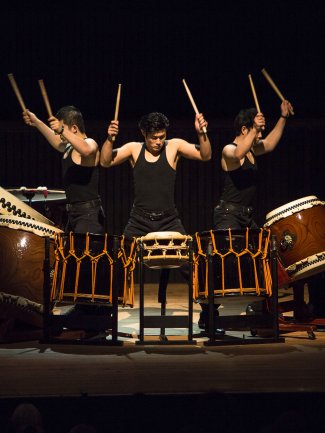 KODO

BRINGS

LEGACY

PROJECT

TO

EUROPE
10/2/2020
Japan's legendary taiko performing arts ensemble Kodo return to their roots with ​'One Earth Tour 2020: Legacy' throughout February and March in Europe.
HarrisonParrott is proud to work with Kodo on performances in Croatia, France, The UK and Poland. Performances start in Zagreb on 9 February and Paris on 11 February. The UK tour consists of performances at the Anvil in Basingstoke on 13 February, at Warwick Arts Centre on 14 February and at the Lighthouse in Poole on 16 February. Onwards to France, we see Kodo perform in Aix-en-Provence at Le Grand Théâtre on 28 and 29 February. Back in London, there are two performances at the Royal Festival hall on 13 and 14 March, and the tour concludes at Liverpool's Philharmonic Hall on 15 March.
In Legacy, Kodo revisits the treasure trove of signature pieces that the ensemble has upheld for many years, such as Miyake, Monochrome, O‑daiko, and Yatai-bayashi. This journey will lead the next generation of Kodo performers to explore, investigate, and reinterpret the group's classic repertoire. The performers will bring their fresh ideas and arrangements to the stage, creating new pieces from the classics and weaving them into a rich tapestry to delight and excite their audiences.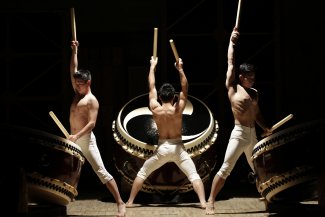 Kodo performers hone their bodies for taiko playing by playing taiko. Their chiseled physiques and precise movements are enhanced on stage by each performer's acute awareness of their core and stance. In this production, the performers will appear in Kodo's iconic costume: the indigo-dyed coat, apron, and trousers traditionally worn by Edo-era workers. In the climatic finale, powerful male drummers will appear in loincloths to showcase the muscles they use to create pulsating, soul-stirring reverberations.
Since the group's debut at Berliner Festspiele in 1981, Kodo has given over 6500 performances in 50 countries on five continents. This figure includes 4000 performances under the ​"One Earth" banner, a theme that embodies Kodo's desire to transcend language and cultural boundaries, all while reminding their audiences of the common bonds we all share as human beings.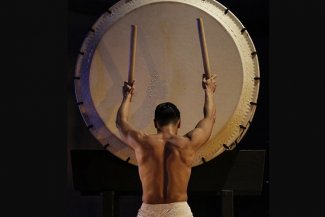 In addition to its theatre schedule, Kodo enjoys working with thousands of school children across Japan and on tour. Thanks to the instruments provided by Taiko Meantime, Kodo is able to offer workshops in Basingstoke, Poole and in London in collaboration with HarrisonParrott Foundation's partner Tri-borough Music Hub.
The ensemble also participates in a wide range of projects and events, which includes headlining major international festivals, contributing to motion picture soundtracks, and collaborating with a wide variety of global performing arts leaders.