KODO

brings

EVOLUTION

project to Europe
26/1/2018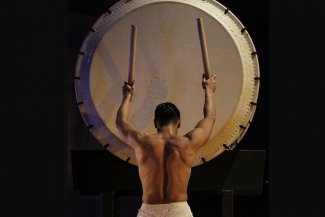 Following its 2016 premiere in Tokyo, Kodo​'s latest production, ​'Evolution' is presented abroad for the first time. ​'Evolution' showcases the perpetual creative evolution of taiko performing arts ensemble Kodo under the artistic direction of Tamasaburo Bando.
The European tour goes to Germany, Austria, Denmark, Italy, Switzerland and Russia. HarrisonParrott is delighted to work with Kodo again in the UK and Finland going to the Brighton Dome on 30 January, Manchester Bridgewater Hall on 2 February, Canterbury Marlowe Theatre on 4 February, Birmingham Symphony Hall on 5 February, Sage Gateshead on 7 February and Helsinki Savoy Theatre on 24 and 25 March.
Based on Sado Island in northern Japan, this internationally-renowned group of drummers has been dazzling audiences worldwide for over three decades. The ensemble strives to both preserve and reinterpret traditional Japanese performing arts in spectacular theatrical shows which range from energetic physically-charged ensemble drumming to smaller groups and soloists featuring a variety of authentic instruments as well as dance.