Remembering Olly
10/7/2020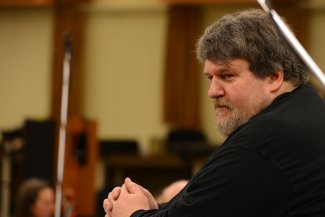 Jane Brown remembers Oliver Knussen, a towering musician, composer, teacher and friend
I worked with Oliver Knussen for most of my 25 years at HarrisonParrott (I joined in 1994 and Olly came on board in 1995) – alongside Lydia to begin with, and then taking the lead when Lydia went on maternity leave. Olly was an extraordinary musician and composer, and he had an amazing brain. He could listen to a piece and pick out something that most musicians would only hear on the sixth hearing. His composition students said he was remarkable for looking at a score, picking out the problems and explaining how to fix them; and this made him an incredible and much sought after teacher.
He was one of the most extraordinary interpreters – both of contemporary and mainstream works – and always had such insight. He also curated some wonderful events, including the great Takemitsu and Stockhausen festivals at the Southbank Centre. As a composer, his legacy is extraordinary; and it was a great privilege to be working for him, even though there could of course be tensions when he was writing a new piece – but great excitement and expectation when it was performed.
When I was on maternity leave for six months in 2007, Olly rang me every week, usually on a Friday, just to find out how I was, which I found unbelievably touching. He functioned best if he felt there was a friendship as well as a professional relationship, and he would often call late at night or early in the morning if something was bothering him. But it was always on the understanding that that worked both ways if necessary.
Olly's incredible ear also made him a brilliant mimic and he would often pretend to be someone else on the phone. It would really take a few minutes to realise that it was him (usually because he would give the game away by giggling). Particular favourites for him to imitate were Hans Werner Henze, Magnus Lindberg and Jasper!
I have lots of wonderful Olly stories. One of my favourites is when he rang about a new purchase he'd made. ​'Hello!' said this very cheerful voice. ​'I've just been to the newsagents and bought myself a bike.' Slightly thrown, I very carefully asked what had prompted him to do so. ​'It was cheap, and I thought it would be handy to put in the back of the car in case the car breaks down.' I took a breath and said, ​'Did you consider buying a mobile phone?' There was a pause and he chuckled, ​'I didn't think of that.'
If I hear a good joke, I still reach for the phone to call Olly; and it's still incomprehensible that it's no longer possible. It's hard to be without his music and his musicianship, but above all, without the extraordinary human being.