Spiros Chatziangelou: Tradition of Classical Music on the Greek Island of Corfu
22/5/2019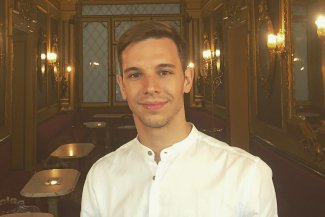 Spiros Chatziangelou comes from Corfu, a Greek island in the Mediterranean, which for many generations has attracted visitors from all corners of Europe with its rich and vibrant culture. Music has always been especially regarded on the island, where it is home to over 18 philharmonic brass bands, the first Opera house in Greece, countless musical societies and organisations.
"An island of 105,000 residents counts over 20 major music education organisations and many musical clubs, while it also hosts a School of Music as part of the Ionian University" – states Greek Reporter.
"Music is in the air and in the blood of the local residents", Spiros says, where picking up an instrument at an early age is as natural as breathing, and almost expected. Spiros mentions that his first musical memory was a teacher at school playing a fragment of Beethoven's Symphony No.9, ​"Ode to Joy". The melody and power astonished him, and he was able to play it back on the piano by ear. Soon he was asking his parents to buy him classical CDs, and by the age of 11, he joined Philharmonic Union of Corfu ​'Kapodistrias', studying euphonium. Music at such Philharmonic Unions is taught for free to students of all ages, who join the marching brass band as soon as they feel comfortable enough with the instrument.
Being part of such a music community is an essential part in the development of musicianship. This form of musical education is unique to Corfu and is a springboard for those moving into professional musical careers, even though, most of the musicians in such societies are not professional. Growing up, Spiros was confident about his path as a professional musician, studying both piano and Euphonium. He gained a lot of experience playing with the band where the local life is all about the national celebrations, which are incomplete without the showcase of nearly 20 Philharmonic societies, with the largest group exceeding 300 members. Festivals attract tourists from all over the world and promise an unforgettable music experience.
The way society perceives music is important in an individual's choice to pursue learning an instrument or a professional musical career. This choice comes naturally to Corfu locals — as Spiros emphasises:
"Music as such is not a commodity. It is not considered something strange, posh, or expensive, but is something absolutely natural and normal. Everyone learns an instrument, takes lessons at the philharmonic societies, or joins the band"
Spiros explains that even though, his family wasn't musical, his mother and grandmother were born in Corfu and music was a big part of their lives. Having had a difficult upbringing, they made sure their children would have the opportunities to learn and experience music.
"Music was always encouraged. However, I was the one who asked for piano lessons at the philharmonie. At school the teacher would play classical pieces and tell us about the composers. One hour a week was enough to spark the love for classical music." — he says.
After school it was his decision to leave Corfu and study in the UK. He was in the first year of university, when he realised that becoming a performer is no longer his dream.
"I knew I loved music and the production side was so much more appealing than the stage. I like to think how the performance can be presented to the audience. I took this opportunity to keep attending any concerts in the UK I could, especially operas."
This love for music was powerful enough for Spiros to pursue a Master's in Business of Classical Music in collaboration with Royal Liverpool Philharmonic. This is also how he heard about the HarrisonParrott and applied for the job of Artist Coordinator.
"I like the fact that without being visible, we influence the life of a musician,"- says he about his position, — ​"there is a point when you take over everything and bring this contribution, that may be not very obvious to the audience, but is very important. I like the fact that we have exposure to a lot of sides of the industry — you work with many orchestras, you see many possible ways things can develop, you work with many great musicians. Everything has to come together somehow — someone has to do that job and give that support, even though it may not always be easy, but it is worth it."
In the end, working behind the scenes is a true challenge and the art of its own, that just like playing an instrument or being a part of a band, it requires a lot of patience, a great deal of practice, and an endless well of love and inspiration for music. A passion for music is an inseparable part of many communities around the world, something that brings people together and gives endless opportunities to young people to pursue music one way or another.