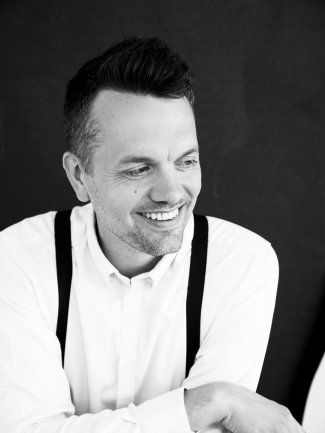 '

I see Earth! It is so beautiful'
18/10/2019
Daníel Bjarnson explains how Yuri Gagarin inspired his latest work, From Space I saw Earth, which premieres at LA's Walt Disney Concert Hall on Thursday 24 October
"The LA Philharmonic is celebrating its centenary with a concert marking the exact date of their first concert, 24 October 1919, with its three living Music Directors taking part – Gustavo Dudamel, Zubin Mehta and Esa-Pekka Salonen. Chad Smith (the Orchestra's recently appointed CEO) had the idea to include a work where they all conduct at the same time and asked me to write it.
It took a little while to figure out how I was going to write the piece, because the logistical specifications for the performance dictate how the music works. As I started composing, I had simultaneously to choose what kind of piece it was going to be and how I wanted to organise it in the hall. There wasn't any possibility of splitting the orchestra into three groups separated by distance, so the players are all on stage in three sub-groups, each with its own conductor. The conductors are organised in a triangle, so that they are within sight, which is important because they have to take cues from each other.
The material each group plays is similar, but I imagine it as the same piece of music being performed simultaneously in three alternate universes. The groups are always moving at slightly different tempos and are never quite together, although they sometimes align for a little while. Sometimes they start together and then glide apart, and sometimes they have staggered entries. It's a phasing effect that you recognise from composers such as Steve Reich, but it's not meticulously controlled – it's more organic. It's like watching a picture that is constantly breaking into three slowly shifting images. I don't know exactly how it will sound, because there's a randomness built into it that is beyond my control, but I think (and hope) it will work.
This is the third piece I've written to do with the moon landing or space travel. ​'From Space I saw Earth' refers to astronauts seeing the Earth from space. The first human to go into orbit was Yuri Gagarin, who said, ​'I see Earth! It is so beautiful.' Many such comments have been made by those who have seen the planet as a whole from outside the Earth's atmosphere.
The title also refers to the ​'overview effect', whereby astronauts have described how the experience affects how they think and understand their place in the world and the universe. Today, when most of our challenges need to be solved on a global scale, it's important for us to consider the Earth as one system – a whole, rather than fragments. I don't mean the titles of my pieces to be programmatically specific, though. They are more to give people some kind of key for when they listen to the music, a mindset, something to reflect on."