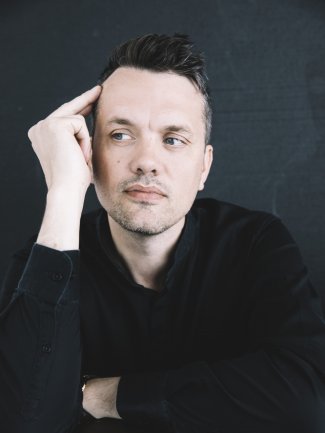 Daniel Bjarnason's world premiere with Los Angeles Philharmonic
18/10/2019
The world premiere of Daniel Bjarnason​'s latest work takes place on 24 October. Presented by the Los Angeles Philharmonic, the Orchestra commissioned him to write a work for Gustavo Dudamel, Zubin Mehta and Esa-Pekka Salonen to conduct together at its Centennial Birthday Celebration Concert and Gala. Titled From Space I Saw Earth, it is the final instalment in a set of three works that mark the Moon Landing in 1969.
The other works, We Came in Peace for All Mankind, for 12 pianos, 12 horns and loudspeaker, and the piano trio White Flags, were premiered in the Netherlands in 2018, at the Holland and Storioni festivals, in Amsterdam and Eindhoven, respectively.
Bjarnarson keeps a close relation with the Los Angeles Philharmonic, which also premiered his Violin Concerto at the Hollywood Bowl in 2017, in a co-commission with Iceland Symphony for Pekka Kuusisto, while he co-curated the Orchestra's Reykjavík Festival, an eclectic and multi-disciplinary 17-day event. He has also been featured as a conductor with the orchestra, returning in February 2020 for a Green Umbrella concert.