LAN

SHUI

CONCLUDES

SEASON

IN

CHINA

AND

TAIWAN
14/6/2019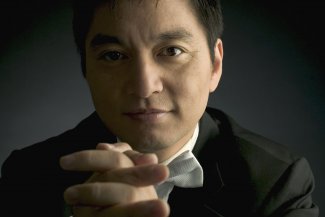 Lan Shui returns to Asia this month to conclude the 18/19 season with a series of concerts in China and Taiwan.
Shui conducts Mendelssohn's A Midsummer Night's Dream and a world premiere by Zhou Long, Classic of Mountains and Seas — Concerto for Orchestra, commissioned by the Shanghai Symphony Orchestra. The concert takes place at the Shanghai Symphony Orchestra Hall on 22 June.
Shui next stops at Beijing, where along with the China Philharmonic Orchestra they will give a concert on 30 June with works by Dvořák – featuring his Violin Concerto in A minor and Symphony No.7.
The last stop in China will be at the Guangzhou Xinghai Concert Hall on 6 July, for a performance of Bruckner's Symphony No.8 with the Guangzhou Symphony Orchestra.
Having recently commenced his tenure as Principal Guest Conductor of the National Taiwan Symphony Orchestra, Shui will conduct the last concerts for the season with the orchestra on 12 & 13 July, in a programme that features Grieg's Peer Gynt Suite No.1, Aho's Concerto for two Cellos and Orchestra and Nielsen's Symphony No.4.
Iarlaith Carter
Associate Director, Artist Management