LAN

SHUI

CONDUCTS

HIS

FINAL

CONCERTS

AS

MUSIC

DIRECTOR

OF

SINGAPORE

SYMPHONY

ORCHESTRA
25/1/2019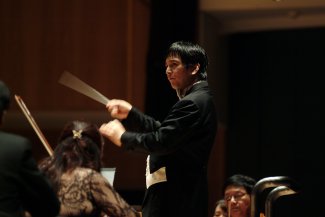 Shui, who has served as the Music Director of the Singapore Symphony Orchestra since 1997, conducts his farewell concerts at the Esplanade Concert Hall on on 25 – 26 January.
During 22 years of dedication and passion, building a world-class orchestra, notable successes for Shui and SSO have included their visit to the BBC Proms, international tours across Asia, Europe and America, as well as a plethora of acclaimed recordings under BIS, including a Rachmaninov series and the first-ever cycle of Tcherepnin's piano concertos and symphonies.
Shui will say goodbye to the musicians and the audience with the performance of Mahler's monumental Resurrection Symphony, a work close to his heart.
Iarlaith Carter
Associate Director, Artist Management