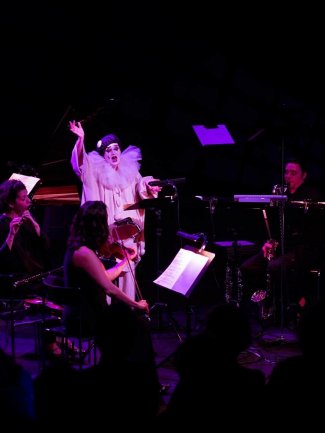 Patricia Kopatchinskaja premieres ​

'

Pierrot Lunaire' in Berlin
8/3/2019
Violin virtuoso and interpreter, Patricia Kopatchinskaja debuts her project, ​'Pierrot Lunaire' with members of the Berliner Philharmoniker and pianist, Tamara Stefanovich as a Late Night concert this Saturday, 9 March 2019.
First conceived whilst the violinist was unable to practice due to an arm injury, the project began to take shape with Kopatchinskaja's work on Pierrot's vocals with coach, Esther de Bros. Paying hommage to Pierrot's genius, Kopatchinskaja becomes Pierrot, singing, speaking and acting the role but also playing her violin, with accompaniment of a small orchestra. The work had its premiere with musicians from the Utah Symphony orchestra and Thierry Fischer at a nightclub in Salt Lake City in October 2017.
Since then, Kopatchinskaja has performed the project with members of Ensemble ASKO in Rotterdam (Dec 2018) and Camerata Bern in Aarau and Riehen (Feb 2018) and plans to repeat the project with Gothenburg Symphony, and Camerata Bern in her home town of Bern, this summer.
With stage and film director Ralf Pleger, Kopatchinskaja embodies the moonstruck Pierrot and all that he stands for in a unique staging of Arnold Schönberg's masterpiece based on poems by Albert Giraud.
To watch the trailer please click here
Patricia will also perform Schoenberg's violin Concerto with the Berliner Philharmoniker and Kirill Petrenko on 7,8 and 9 March.
Ariane Levy-Künstler
Associate Director, Artist Management
Camilla Walt
Artist Manager