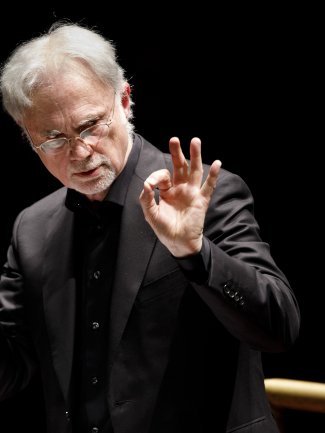 ©
Photo: Riccardo Musacchio
John Adams awarded Erasmus Prize

2019
21/2/2019
John Adams has been awarded the Erasmus Prize 2019. Named after the Dutch humanist Desiderius Erasmus and regarded as one of Europe's most prestigious recognitions, the prize is awarded annually by the Praemium Erasmianum Foundation to a person or institution that has made ​"an exceptional contribution to the humanities, the social sciences or the arts, in Europe and beyond". It emphasises the ​"importance of tolerance, cultural pluriformity and non-dogmatic critical thinking" – values which are expressed in the Foundation's choice of laureates.
For 2019 the Foundation has chosen as its central theme ​'Composing for today'; their announcement of Adams' prize draws attention to his ​"new musical idiom by fusing elements from jazz, pop and classical music", commenting on how he ​"has made contemporary classical music ​'communicate' again, important at a time when this genre has increasing difficulty in finding a following. Moreover, Adams often addresses social themes in his work … What distinguishes him, furthermore, is the humanistic nature of his themes. Adams is not just a great conductor and composer, he is also a writer who reflects on the social function of classical music."
Adams joins a distinguished list of past recipients which include, among others, his librettist-collaborator Peter Sellars, Olivier Messiaen and Bernard Haitink. The award ceremony takes place in November 2019 in Amsterdam, and to mark the presentation the Foundation is organising a varied programme of events based around the work of Adams.
Jane Brown
Director, Artist Management
Marissa Pueschel
Artist Manager