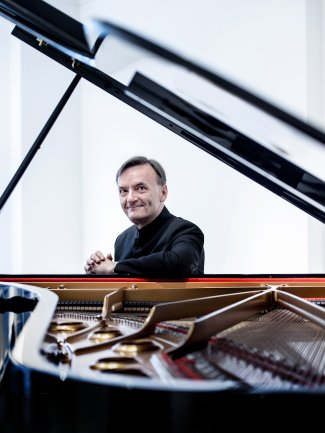 ©
Photo: Sim Canetty-Clarke
Stephen Hough returns to the Far East
21/9/2018
Stephen Hough returns to the Far East this September and October, making his debut with three Asian orchestras and performing a total of eight concerts during his four-week tour.
The tour commences with a recital of Debussy, Schumann and Beethoven at the Musashino Shimin Bunka Kaikan Recital Hall on 25 September, followed by two performances of Beethoven's Emperor Concerto with the Tokyo Symphony Orchestra on 29 (Tokyo Opera City) and 30 September (Niigata Ryutopia Hall), conducted by Maxim Emelyanychev.
Stephen then journeys to China to perform Dvořák's Piano Concerto on 4 October at the Xi'an Concert Hall, together with the Xi'an Symphony Orchestra and conductor Dane Lam. He returns to China for a performance of Mozart's Piano Concerto No.21 with the China National Symphony Orchestra and Yi Zhang at the National Centre for the Performing Arts in Beijing on 12 October, before which he repeats the Debussy-Schumann-Beethoven recital programme at Hong Kong'sCity Hall Concert Hall on 8 October.
The final concerts take place in Kuala Lumpur: Stephen makes a welcome return to the Malaysian Philharmonic Orchestra, performing Rachmaninov's Rhapsody on a Theme of Paganini under the baton of fellow-Brit Mark Wigglesworth on 20 and 21 October at the Dewan Filharmonik Petronas.
Jane Brown
Director, Artist Management
Elise Jennings
Senior Artist Manager
Marissa Pueschel
Artist Manager