Arvo Volmer conducts the Prague Radio Symphony Orchestra
7/9/2018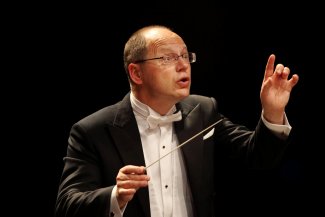 Arvo Volmer conducts the Prague Radio Symphony Orchestra on 15 September 2018 at Kurhaus Wiesbaden in a concert with works by Dvorak and Schumann.
The programme opens with Dvorak's symphonic poem The Golden Spinning Wheel, and will conclude with his 9th Symphony from the new world. In between young German cellist Friedrich Thiele will join the orchestra and Arvo for Schumann's Cello concert.
Arvo Volmer will return to the orchestra in November to conduct a concert with soloist Lukas Vondracek at Prague's Rdolfinum. Arvo and Lukas will join forces before that when both return to the Qrquestra Sinfônica do Estado de São Paulo for three concerts on 20, 21 and 22 September.
Sabine Frank
Director & Managing Director (HP GmbH)