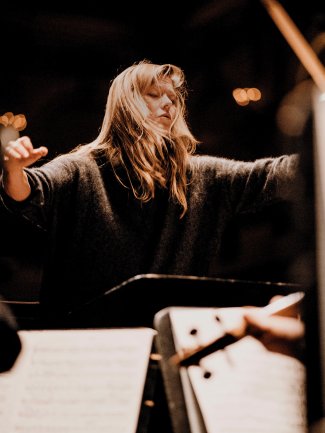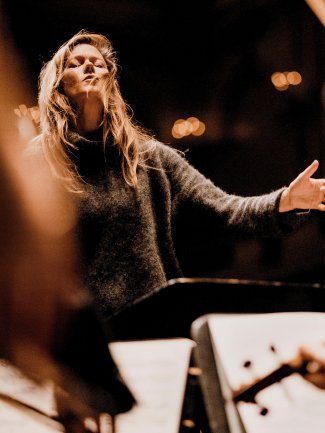 Barbara Hannigan appointed Principal Guest Conductor of Gothenburg Symphony
8/4/2018
Barbara Hannigan has been named Principal Guest Conductor of the Gothenburg Symphony, the National Orchestra of Sweden. Her appointment will commence in the 2019 – 2020 season [for an initial period of three years] and appearances with the Orchestra are already planned for 2018.
The announcement of Barbara Hannigan as Principal Guest Conductor is the result of a fruitful relationship with the Orchestra, developed over several years since her first sing/​conduct concert in 2011, which was a unanimous triumph. She has returned on several occasions as a soloist, and the joyous music-making and mutual trust resulted in Barbara Hannigan being appointed Artist in Residence 2015 – 2016.
Hannigan's presence has been felt ever more strongly in Sweden in recent months, having been elected to the Royal Swedish Academy of Music and being awarded the Rolf Schock prize, the multi-disciplinary award for ground-breaking and brilliant figures in their respective fields. Says Barbara Hannigan:
"I am more than thrilled to embark on this adventure with my colleagues at Gothenburg Symphony! I am passionate about our work together, and head over heels that I've been invited as Principal Guest Conductor. We have already taken such exciting leaps in our collaborations over the past several years, and I am sure we will create many more memories in the coming seasons with the Gothenburg audiences!"
In December 2018 Barbara Hannigan leads a very special venture: three performances of Stravinsky's opera The Rake's Progress, conducted by Hannigan and directed by Linus Fellbom. Singers are selected from Hannigan's mentoring programme, Equilibrium, which works with young musicians in the first substantial phase of their career. The performances with the Gothenburg Symphony will be filmed for the Accentus Music documentary ​"Barbara Hannigan – Taking Risks". As Hannigan prepares her first opera production as a conductor, the film follows all stages of the production, starting with the entire casting process and very first auditions, culminating in the performances of the semi-staged production in Gothenburg.
Barbara Hannigan divides her time between singing on the world's major stages and conducting leading orchestras. An outstanding soprano and a distinguished interpreter of the music of the twentieth and twenty-first centuries, Hannigan began conducting in addition to singing, making her conducting debut in 2010. Her trajectory of soprano-to-conductor is without precedence. Hannigan's career path is as original as her extraordinary performing style. She chooses projects and roles that she is passionate about and her unique success is a combination of artistic courageousness and creative discipline.
In 2017, Barbara Hannigan founded Equilibrium Young Artists, a mentor programme for young artists. Equilibrium focuses on young musicians who are finished with their training and in the first substantial phase of their professional career, with special attention to singers. Equilibrium aims to help young artists further their professional development, elevating their total musicianship and discipline, offering projects with leading orchestras and ensembles.