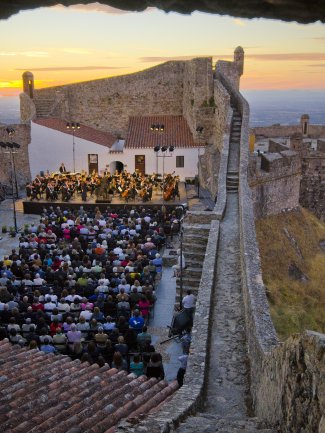 Mãrvao International Music Festival celebrates its fourth year
14/7/2017
The Mãrvao International Music Festival, which recently won the award for Best Event 2016 in the Alentejo region, launches its fourth edition on 21 July and features three HarrisonParrott artists.
With Christoph Poppen at the helm as Director, the Festival has grown from a handful of concerts over a weekend in Mãrvao to a 10-day event in multiple locations – including across the border in Spain – featuring artists from all over the world with concerts, lectures, late-night gigs and even a musical picnic. Over the last 18 months HarrisonParrott has provided strategic advice and direct support to the Festival in terms of fundraising and marketing, including the creation of a Patrons Circle.
This year two additional HarrisonParrott clients perform at the Festival alongside Director Christoph Poppen. The Goldmund Quartet perform Haydn, Schubert and Beethoven quartets (13 July) in the village of Monforte, and cross over the boarder to Spain, for a collaboration with Spanish clarinetist Pablo Barragán to perform Mozart's Clarinet Quintet in Valencia de Alcántara (14 July).
Christoph Poppen performs with the Hong Kong Sinfonietta on 21 July (as their Principal Guest Conductor), and teams up on 28 July with Lucienne Renaudin Vary and the Mãrvao Festival Orchestra for Haydn's Trumpet Concerto.
Watch highlights from the 2016 Festival: