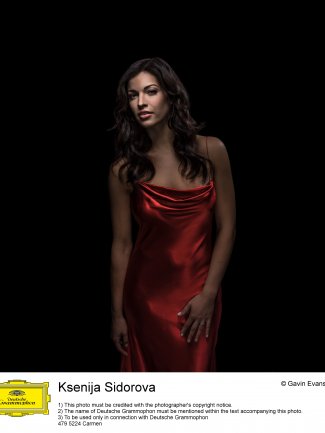 Ksenija Sidorova performs her Carmen project in Germany and Italy
17/3/2017
This month Ksenija Sidorova performs her Carmen project in Berlin (Kammermusiksaal at Berliner Philharmonie) on 22 March, in Munich (Prinzregententheater) on 26 March and in Cagliari (Teatro Lirico) on 28 March.
Ksenija appears as lead ​'singer' in her hour-long re-imagination of Bizet's classic opera: she is joined by an all-star band of violin, piano, bass, guitar and percussion fusing flamenco rhythms, Gypsy jazz and fresh takes on romantic ballads. She previously performed the project successfully at the Jurmala (Latvia) and Ravinia festivals (USA).
Ksenija's Carmen album was released on Deutsche Grammophon in June 2016.