Peter Eötvös' Senza Sangue receives its German premiere at Hamburgische Staatsoper
31/10/2016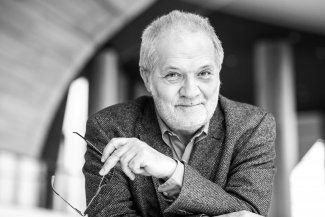 On 6 November the Italian version of Peter Eötvös' latest opera Senza Sangue receives its German premiere in Hamburg.
Directed by Russian theatre director Dmitri Tcherniakov at Hamburgische Staatsoper, the first night is conducted by the composer and features Angela Denoke and Seigei Leiferkus in the title roles. The double bill is complemented by Bartók's Bluebeard's Castle and six further performances take place until the end of November.
After receiving its world premiere in April 2015 in Cologne and the American premiere in May 2015 in New York (both in opera-in-concert format), the opera continued touring in 2016 with the Gothenburg Symphony and the Orchestre Régional Avignon Provence respectively for its Swedish and French premieres. Future performances include the UK premiere in March with the BBC Symphony Orchestra under the baton of Simone Young.