Barbara Hannigan named Ojai Festival Music Director in

2019
17/2/2016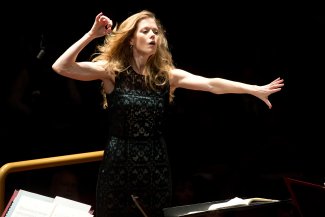 Soprano and conductor Barbara Hannigan has been named the Ojai Festival Music Director for the 2019 season. She is known worldwide as a soprano of vital expressive force directed by exceptional technique, who is now bringing that same high energy and expertise to her varied activities as a conductor while continuing to work as a singer. This last fall she made her North American conducting debut with the Toronto Symphony Orchestra, while singing at the same time, in a programme of Nono, Haydn, Mozart, Ligeti, and Stravinsky.

In January 2016 she released the recording of Hans Abrahamsen's let me tell you, and performed the work with The Cleveland Orchestra and Boston Symphony Orchestra in Cleveland, Boston, and New York's Carnegie Hall. Hannigan pressed for the Berliner Philharmoniker to commission this Grawemeyer Award-winning piece after she was asked to sing at a surprise birthday party for her friend, writer and critic Paul Griffiths. let me tell you gives Ophelia the opportunity to retell her own story, using only the 481-word vocabulary given to her in Shakespeare's Hamlet. Read The New York Times review, The Boston Globe profile and Alex Ross' review in The New Yorker.

From a much applauded debut conducting Stravinsky's Renard at the Théâtre du Châtelet in Paris, Hannigan has gone on to work with orchestras including the Gothenburg Symphony, WDR Sinfonieorchester, Mahler Chamber Orchestra, Helsinki Philharmonic Orchestra, and Orchestra dell'Accademia Nazionale di Santa Cecilia in Rome. As a performer herself, she enjoys a warm rapport with orchestral players, and this communicates itself in her concerts, while her programming has music old and new striking sparks off each other. Her conducting debut at the Concertgebouw with Ludwig Orchestra won the Ovatie 2014 award for best classical concert of the year in the Netherlands.
Upcoming Ojai Music Festival Music Directors:
Peter Sellars: 70th Festival, June 9 to 12, 2016
Vijay Iyer: 71st Festival, June 8 to 11, 2017
Esa-Pekka Salonen: 72nd Festival, June 7 to 10, 2018
Barbara Hannigan: 73rd Festival, June 6 to 9, 2019
Patricia Kopatchinskaja: 74th Festival, June 11 to 14, 2020
Mitsuko Uchida: 75th Festival, June 10 to 13, 2021
"Ojai prides itself on the wide-ranging breadth and depth of its music directors – from conductors, composers, instrumentalists, choreographers, and theater directors to established musical personalities and emerging artists of the future. The fundamental requirements to serve as a music director are to be a serious and curious musical artist of unquestioned excellence and to fully embrace a sense of adventure. He or she must be someone whose musical predilections will surprise, provoke, and delight. Soprano/​conductor Barbara Hannigan, violinist Patricia Kopatchinskaja and pianist Mitsuko Uchida fulfill these requirements – and along with Peter Sellars, Vijay Iyer, and Esa-Pekka Salonen – will bring to the Ojai Music Festival a truly distinctive and distinguished artistic arc through its 75th anniversary in 2021." Thomas W. Morris, Artistic Director
From its founding in 1947 the Ojai Music Festival has created a place for groundbreaking musical experiences, bringing together innovative artists and curious audiences in an intimate, idyllic setting 80 miles northwest of Los Angeles. The festival presents broad-ranging programmes in unusual ways with an eclectic mix of rarely performed music, refreshing juxtapositions of musical styles, and music by today's composers. The four-day festival is a complete immersive experience with concerts, free community events, symposia, and gatherings. Considered a highlight of the international music summer season, Ojai has remained a leader in the classical music landscape.

The Ojai Music Festival attracts the world's greatest musical artists. Through its unique structure of the Artistic Director appointing an annual Music Director, Ojai has presented a ​"who's who" of music including: Aaron Copland, Igor Stravinsky, Olivier Messiaen, Michael Tilson Thomas, Kent Nagano, Pierre Boulez, John Adams, Esa-Pekka Salonen, Robert Spano, Pierre-Laurent Aimard, David Robertson, eighth blackbird, George Benjamin, Dawn Upshaw, Leif Ove Andsnes, Mark Morris, Jeremy Denk, and Steven Schick.