Pekka Kuusisto debuts with

MDR

Sinfonieorchester Leipzig
8/5/2015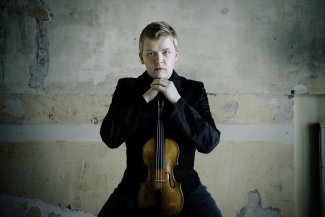 Pekka Kuusisto makes his debut with MDR Sinfonieorchester Leipzig on 17 May, performing Sibelius' Violin Concerto alongside conductor Kristjan Järvi.
Kuusisto received critical acclaim for his performance of the same work earlier this year with Seattle Symphony Orchestra — the Seattle Times commented that "[The Sibelius Violin Concerto] is often played – but never quite like this, and the performance by violinist Pekka Kuusisto was the evening's great surprise…he launched into the music with a straightforward intensity that had the listeners leaning forward in their seats…Kuusisto wielded an awe-inspiring technique and displayed a brilliantly thorough command of this challenging score."
Kuusisto returns to Germany later in the month for a special chamber performance of the same concerto at the 2015 Dresdner Musikfestspiele. This choreographed version also features dancers Kaari Martin (flamenco) and Minna Tervamäki (ballet), pianist Heini Kärkkäinen, and lighting design from Mikko Linnavuori.