Vladimir Ashkenazy receives Honorary Doctorate from the Royal College of Music
12/3/2015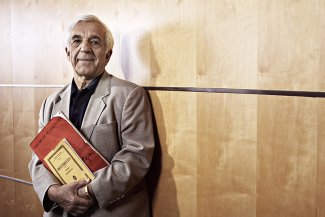 It has been a great inspiration for me to have had a wonderful, continuous and long lasting connection with the Royal College of Music

Vladimir Ashkenazy
HRH The Prince of Wales, President of the Royal College of Music, today presented Vladimir Ashkenazy with an Honorary Doctorate at the College's Annual Awards ceremony.
Upon receiving the award, Vladimir Ashkenazy said: ​"It has been a great inspiration for me to have had a wonderful, continuous and long lasting connection with the Royal College of Music in recent years and has been a pleasure and privilege to give young musicians insights across the broadest of repertoire. The students have great energy, musicianship, integrity and technical proficiency and it is very fulfilling to see young people open themselves to the overwhelming richness great music has to offer."
Following the ceremony, Ashkenazy conducts the RCM Symphony Orchestra in two concerts – 12 and 13 March – of which the latter is broadcast live via the RCM website at 7.30pm GMT. The programme features works by Berlioz, Chopin and Debussy.
Remaining in the UK, Ashkenazy returns to the Philharmonia Orchestra for a gala concert on 17 March in Bedford to celebrate the 20th anniversary of the orchestra's residency at the Bedford Corn Exchange, and they perform Sibelius' Karelia Suite and Symphony No.5 as well as Mozart's Sinfonia Concertante for Violin, Viola and Orchestra.
Ashkenazy leads the Philharmonia again on 18 and 19 March when he opens their Sibelius 150th Anniversary season at concerts in Cardiff and London. Prior to these performances he discusses the Sibelius project on BBC Radio 3 on 14 March.