Han-Na Chang makes two major conducting debuts in the

USA
23/1/2015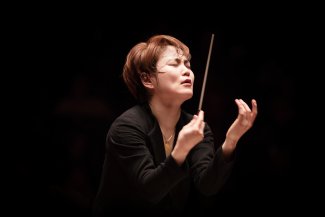 Han-Na Chang makes her conducting debuts with Indianapolis Symphony Orchestra on 29, 30 and 31 January and Cincinnati Symphony Orchestra the following week.
The Indianapolis programme features Tchaikovsky's Symphony No. 5 and Prokofiev's Piano Concerto No.3 performed by soloist Vadym Kholodenko.
In Cincinnati, Ms Chang leads Ravel's arrangement of Mussorgsky's Pictures at an Exhibition, Korngold's Violin Concerto with soloist Simone Lamsma and Tchaikovsky's Suite from The Sleeping Beauty in concerts on 6 and 7 February.