Peter Eötvös conducts the

NHK

Symphony Orchestra
18/5/2014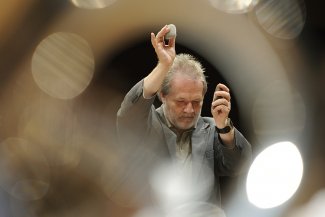 Peter Eötvös is in Tokyo for a concert with the NHK Symphony Orchestra on 22 May, featuring the Japanese premiere of three of his works. Additionally, as judge of the 2014 Toru Takemitsu Composition Award, he announces the prizewinner at a special concert on 25 May. Both concerts take place in Tokyo's Opera City Concert Hall.
The NHK Symphony Orchestra concert sees Eötvös conduct Ligeti's San Francisco Polyphony as well as the Japanese premieres of his own works: Speaking Drums – featuring soloist Martin Grubinger — The Gliding of the Eagle in the Skies and zeroPoints.
The Takemitsu Award final features performances of four shortlisted compositions from international composers; the Tokyo Philharmonic Orchestra is conducted by Yoichi Sugiyama. The evening culminates in Eötvös announcing his decision on the prizewinner. The competition is unique in appointing a single judge each year. Eötvös, who as judge of the competition studied 108 scores submitted anonymously, joins a list of eminent judges of the Award, including Henri Dutilleux, György Ligeti, Luciano Berio and Oliver Knussen.
Following his commitments in Tokyo, Eötvös returns to Germany to begin rehearsals for the premiere of his new opera Golden Dragon in June.