Peter Eötvös and Martin Grubinger in Zurich
17/3/2017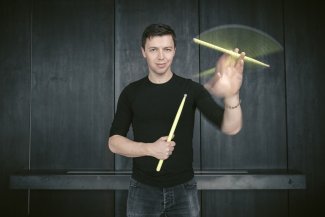 Peter Eötvös (Creative Chair at Tonhalle Zurich) and Martin Grubinger (Artist in Residence at Tonhalle Zurich) perform Eötvös' Percussion Concerto Speaking Drums on 22, 23 and 24 March in Zurich.
Other featured works in the programme are Halleluja Oratorium Balbulum, composed by the conductor and Schoenberg's Friede auf Erden. In the following week (27 & 28 March) both artists give several master classes and lectures at Zürcher Hochschule der Künste.
With his residency as Creative Chair in Zurich, Eötvös will also perform a Hungarian programme on 26 June which features his Da Capo for Cimbalum and Ensemble.
'Big Six', one of Martin Grubinger's most spectacular recital programmes, containing six percussion sextets by Cerha, Riem, Xenakis, Grisey and Reich will be performed three times on 18 March (15:00, 18:00 and 21:00). Other percussion related highlights in Zurich were the season opening under the baton of Lionel Bringuier performing Dorman's Concerto for percussion and orchestra Frozen in Time and the performance with Yuja Wang and The Percussive Planet Ensemble in December 2016.
Martin's European tour with BBC Philharmonic and Juanjo Mena (12 March in Essen, 14 March in Regensburg, 16 March in Munich, 20 March in Innsbruck, 19 March in Heidelberg) frames the residency in Zurich in March.