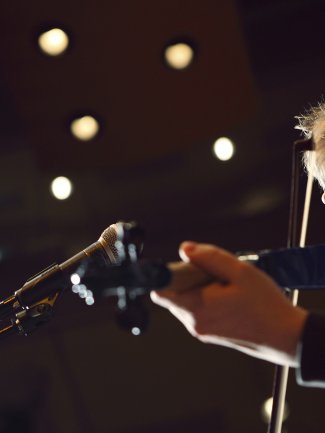 PEKKA

KUUSISTO'S

OUR

FESTIVAL

WINS

STATE

OF

FINLAND

MUSIC

PRIZE

FOR

2013
20/11/2013
Pekka Kuusisto​'s Our Festival (Meidän festivaali) has been awarded the State of Finland Music Prize for 2013. This is the first time the prize has been awarded to an organization rather than an individual. Chosen by a panel of musicians from all genres, the festival was praised for Kuusisto's pioneering programmes, including a concert where Pekka swallowed a microphone in order to play in time to his heartbeat, and a performance of Sibelius works alongside Karelian poetry-singing. The panel also commended the festival's attention to social issues, including the ongoing fight against domestic violence and the support of the Swedish speaking minority in Finland.
Our Festival, which takes place annually near Sibelius' hometown of Järvenpää, was founded by Pekka Kuusisto with the aim of breaking down barriers between audience and performer, and reviving concert repertoire with fresh contexts. His innovative programming for the festival was previously recognised when it was awarded Festival of the Year by Finland Festivals in 2011.
The announcement of the State of Finland Music Prize for Our Festival comes a few weeks after Pekka Kuusisto was presented with the 2013 Nordic Council Music Prize at a special gala in Oslo.