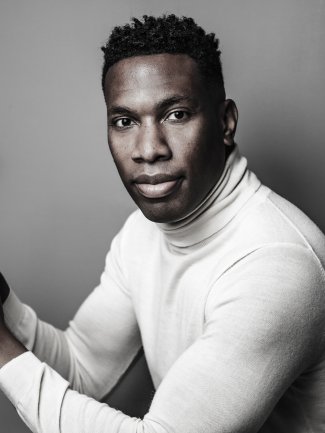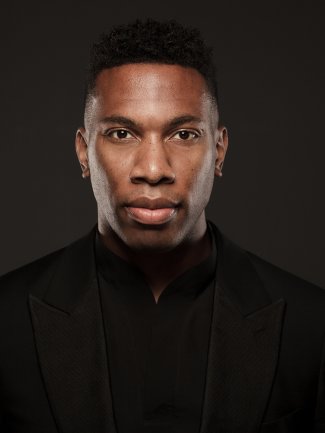 Katie Cardell-Oliver
Associate Director, Artist Management
Lydia Connolly
Director, Head of Artist Management
Ance Kolibere
Associate Artist Manager
"Performances of this symphony are not rare; memorable performances of it are, and Cox showed his finesse with taut but unstrained pianissimos and consistently unflagging energy."

Boston Symphony, Boston Globe
"To Prokofiev, it was the sound of the human spirit, but in Cox's hands it sounded like his own story: Taking what he already had and imagining himself anew." (Symphony No.5, Washington Post). In July 2020 Roderick Cox spoke to the New York Times about his commitment to changing historic and narrow perceptions of classical music. Through his own career both on and off stage he sets a standard for excellence, diversity, opportunity, and accessibility in the music he loves.
Berlin-based and American by birth, Roderick Cox's invitations with the highest level of international ensembles include Philadelphia Orchestra, Boston Symphony, Orchestre de Paris, Los Angeles Philharmonic, Cincinnati Symphony, The Cleveland Orchestra, Philharmonia Orchestra and Deutsches Symphonie-Orchester Berlin. He is also founder of the Roderick Cox Music Initiative (RCMI, 2019)— a programme that nurtures and provides scholarships and opportunities for young musicians in order to make music more accessible. Elk Mountain Productions' award winning 2020 documentary film Conducting Life maps his journey and reflects his passionate belief in the transformative power of music.
Recent highlights include Rundfunk-Sinfonieorchester Berlin, Philharmonia Orchestra, City of Birmingham Symphony Orchestra, Royal Liverpool Philharmonic, Royal Philharmonic Orchestra, Detroit Symphony Orchestra, Minnesota Orchestra, Seattle Symphony, and the Aspen Music Festival Chamber Orchestra.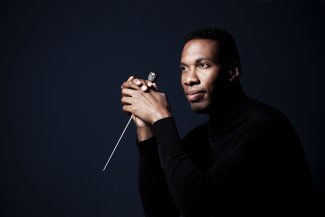 In 2023/24 he makes his Canadian debuts with Orchestre Symphonique de Montreal and National Arts Centre, Ottawa as well as guesting with Hallé Orchestra, Sinfonica di Milano and returning to Orchestre National de Montpellier and Sinfonia Lahti. He will make summer appearances with Staatskapelle Dresden, Orchestra of St Luke's at Caramoor Festival, Enescu Festival and he returns to Philadelphia Orchestra.

The 2023/24 season will also feature Roderick's debut with English National Opera conducting Rossini's Barber of Seville. He has already conducted at the Houston Grand Opera (Pêcheurs de Perles), San Francisco Opera (Barber of Seville), Washington National Opera (Jeanine Tesori's Blue) and Opéra National de Montpellier (Rigoletto).

Roderick's notable recording with Seattle Symphony Orchestra of William Dawson's Negro Folk Symphony was released in February 2023 and received high praise by the New York Times as one of the top five recordings to listen to along with receiving a five-star rating by the BBC Music Magazine. Nominated for the 2023 BBC Music Magazine's Opera Award, Roderick's recording of Jeanine Tesori's powerful opera, Blue with Washington National Opera Orchestra in association with San Francisco Classical Recording Company was released on the Pentatone label in March 2022.

Winner of the 2018 Sir Georg Solti Conducting Award by the U.S Solti Foundation, Roderick was born in Macon, Georgia. Roderick attended the Schwob School of Music at Columbus State University, and then later the Northwestern University graduating with a master's degree in 2011. He was awarded the Robert J. Harth Conducting Prize from the Aspen Music Festival in 2013 and has held fellowships with the Chicago Sinfonietta as part of their Project Inclusion program and at the Chautauqua Music Festival, where he was a David Effron Conducting Fellow. In 2016, Roderick was appointed as Associate Conductor of the Minnesota Orchestra, under Osmo Vänskä, for three seasons, having previously served as assistant conductor for a year.

HarrisonParrott represents Roderick Cox for worldwide general management.
"More impressive, though, is Roderick Cox's spirited take on William L. Dawson's ​'Negro Folk Symphony,' a piece that — like the symphonies of his contemporaries, Florence Price and William Grant Still — deserves better than the scant attention major ensembles have paid it since Leopold Stokowski led the premiere in 1934 […. ] Cox and the Seattle players give it great dignity."
New York Times
"Cox injected a real sense of propulsion into this reading of the score, and the orchestra responded with clean, focused playing. The young American conductor, currently living in Berlin, accomplished much across a wide range of music, and this introduction certainly warrants a return engagement."
Philadelphia Orchestra, Bachtrack
"Cox then worked more wonders with Dvořák's ​'New World' Symphony. It was certainly a lean and muscular performance, but it never sounded driven, while the folk elements came across with unforced authenticity. It became the aural equivalent of one of those American Sublime paintings, huge river-deep, mountain-high panoramas side-by-side with a wealth of finessed detail, upon which Cox and his players lavished a palette of rich colours."
Philharmonia Orchestra, Classical Source
"Performances of this symphony are not rare; memorable performances of it are, and Cox showed his finesse with taut but unstrained pianissimos and consistently unflagging energy."
Boston Symphony, Boston Globe
"… His gestures, even when dramatic, were efficient and tightly controlled, with riveting intensity and focus as a result…"
Cleveland Orchestra, Seen and Heard International
"… The colossal event was greeted with deservedly roaring accolades from the crowd. Welcome to the limelight, Maestro Cox…"
LA Philharmonic Orchestra, Stage and Cinema
Katie Cardell-Oliver
Associate Director, Artist Management
Lydia Connolly
Director, Head of Artist Management
Ance Kolibere
Associate Artist Manager