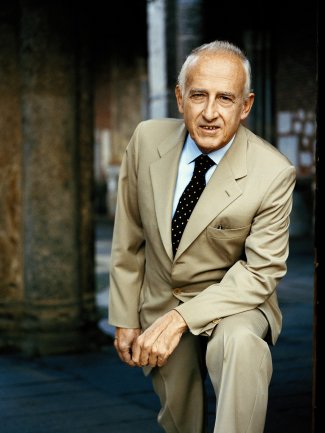 ©
Photo: Mathias Bothor and DG
Jasper Parrott
Executive Chairman
Nadim Jauffur
Artist Coordinator
"Still one of the greatest pianists alive"

(The Times, 2018)
In a career spanning nearly 60 years Maurizio Pollini is one of the great keyboard legends. He has a broad repertoire ranging from Bach to contemporary composers and has recorded works from the classical, Romantic and contemporary repertoire to worldwide critical acclaim.
Since winning First Prize at the 1960 Chopin Competition, Maurizio Pollini has established an international career of the highest importance, performing in the world's major concert halls and working with distinguished orchestras and conductors including Karl Boehm, Herbert von Karajan, Claudio Abbado, Pierre Boulez, and Peter Eötvös. In 1987 he was awarded the Wiener Philharmoniker Ehrenring — the orchestra's highest honour.
In 2010 Maurizio Pollini performed the Chopin Birthday recital on the anniversary of the composer's birth in London's International Piano Series as part of the Chopin 200 celebrations. He went on to present The Pollini Project — a series of five recitals charting the development of piano music from Bach to Boulez, for which he won the Royal Philharmonic Society Instrumentalist Award.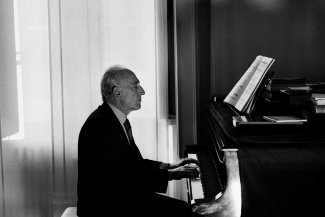 Maurizio Pollini's repertoire ranges from Bach to contemporary composers. He has performed the complete Beethoven Sonatas in Berlin, Munich, Milan, New York, London, Vienna and Paris, and has given world premieres of works by Manzoni, Nono and Sciarrino. His recordings of Schoenberg's complete piano works, and of music by Berg, Webern, Manzoni, Nono, Boulez and Stockhausen, are testament to his great passion for 20th century music and his support for contemporary composers.

A life long Deutsche Grammophon artist, Pollini won a Grammy Award as Best Instrumental Soloist. He is also recipient of Choc de la Musique, Victoires de la Musique and Diapason d'Or de l'Année prizes. He recorded Debussy Preludes for the Debussy anniversary in 2018 and he has recently returned to Chopin, a composer with whom he is most particularly associated.

==========

Pollini devised and performed his own concert series at the Salzburger Festspiele in 1995 with programmes including both chamber and orchestral performances, mirroring his wide musical tastes from Gesualdo and Monteverdi to contemporary music. He subsequently performed similar series at New York's Carnegie Hall, Paris' Cité de la Musique and Rome's Parco della Musica.

Maurizio Pollini was born in Milan in 1942 and studied with Carlo Lonati and Carlo Vidusso.

HarrisonParrott represents Maurizio Pollini in the UK.
"…a reminder that at 76, Maurizio Pollini is still one of the greatest pianists alive"
(Michael Church, The Independent, March 2018)
"The older Pollini grows, the more he seems to recapture the youthful joy of playing the piano, communing with the great masters"
(Geoff Brown, The Times, March 2018)
"After the interval the artistry with which one associates this Italian pianist came gracefully to the fore with Chopin's two Opus 55 Nocturnes, the first singing ruminatively and the arc of the second shaped with ringing eloquence. Then came one of the most convincing performances of Chopin's Sonata No 3 in B minor I have ever heard. The teeming ideas of the first movement were held in place by a cool structural underpinning, but it was still intensely dramatic; the Scherzo's alternation between fleet virtuosity and tenderness, the Largo's long lines of melody, and the finale's explosive resolution were all delivered with oracular authority. […] Encore number two was Chopin's Berceuse, and time stood still as exquisitely articulated right-hand figurations were thrown out over a gentle bass heartbeat. The third encore was one of Chopin's most ferocious finger-twisters – the Etude Opus 25 No 11, which went like the wind. If the first half of this recital was worthy but unrewarding, and if the second had a conventional excellence, this third half was a reminder that at 76, Maurizio Pollini is still one of the greatest pianists alive."
(The Times, March 2018)
"It's easy to understand why Pollini should have been drawn back to these late pieces, with their harmonic daring and structural subtleties. He gives a fascinating account of the Barcarolle, austere and detached, but also intensely focused."
(The Guardian, January 2017)
"Courtesy of his trademark Fabbrini Steinway, Pollini opened not with bustling Schumann, but with a tribute to the late Pierre Boulez, whose mighty Piano Sonata No.2 Pollini is an irresistible exponent of. Schoenberg's Six Little Piano Pieces proved an ideal homage to the much-missed composer-conductor, so much musical potential concentrated into brief playing times. With Pollini making every note significant and expressive, this daring start to the concert made for spellbinding listening."
(Colin Anderson, Classical Source, March 2016)
"Then Chopin's Preludes brought out the Pollini we'd come for. He's had these pieces under his fingers all his life, and that was how be played them, each of the twenty-four being a different facet of one great diamond. Some let the skies darken with storms then be rain-washed clean, others purveyed charm and excitement, menace and fury."
(Michael Church, The Independent, March 2015)
"The first half of the concert was given over to Schumann, and it showed the kind of insight into this complex composer that only a lifetime's experience can bring. The sudden swerve to a new key in the middle of the Arabesque was given a special weight, which made this somewhat hackneyed piece seem new. One of the things that's always marked Pollini's playing is its urgency. It's the sense of being pulled forward that paradoxically gives Pollini's famously tranced, beautiful sound its special quality. One certainly felt that urgency in his performance of Kreisleriana, Schumann's great parade of fantastic visions culled from the writings of ETA Hoffmann. The back-and-forth between charm and something darker was riveting."
(The Telegraph, Ivan Hewett, March 2015)
Jasper Parrott
Executive Chairman
Nadim Jauffur
Artist Coordinator