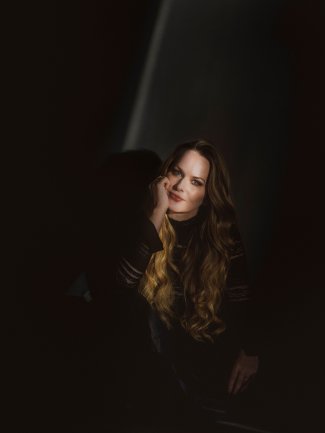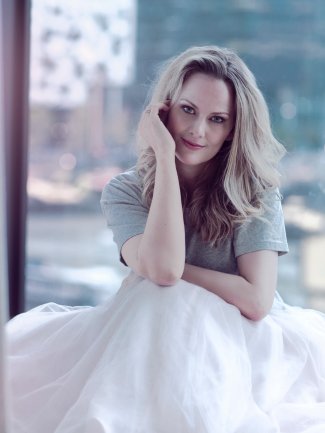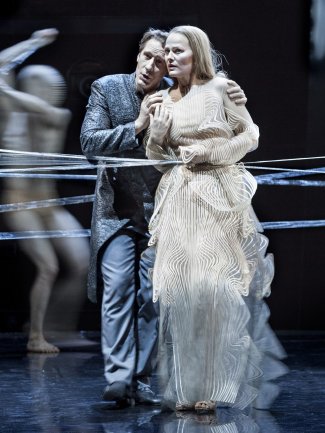 ©
Photo: Annemi Augustijns, Opera Vlaanderen
"The recording captures the crystalline yet supple quality of her voice and her direct, communicative way with text."

(The Guardian)
Soprano Mari Eriksmoen received widespread acclaim for her role debut as Debussy's Mélisande in the complex and intense staging by Sidi Larbi Cherkaoui, Damien Jalet and Marina Abramović for Opera Vlaanderen, including ​"her French diction was faultless, her voice like crystal, and she embodies the hypnotizing fragility of this heroine to perfection" (Forum Opéra). Having reprised the role meanwhile in further performances at Grand Théâtre de Genève and Grand Théâtre de Luxembourg, Eriksmoen will appear again in Pelléas et Mélisande this season at Teatro de la Maestranza, Sevilla.
Norwegian-born Eriksmoen completed her studies in Oslo (Norwegian Academy of Music), Paris (Conservatoire National Superieur) and Copenhagen (Royal Danish Academy of Opera) before being immediately launched into her professional career in 2010 by an invitation to debut as Zerbinetta in a new staging by Harry Kupfer of Ariadne auf Naxos, conducted by Bertrand de Billy at Vienna's Theater an der Wien. Those performances marked the beginning of a regular presence on the historic Vienna stage, returning as Olympia (Les contes d'Hoffmann), Euridice (Monteverdi's L'Orfeo), Servilia (La clemenza di Tito), Agilea (Handel's Teseo), and as Susanna, Zerlina and Fiordiligi in the Da Ponte Trilogy conducted by the late Nikolaus Harnoncourt.
Productions elsewhere include Die Entführung aus dem Serail (Blondchen) at Oper Frankfurt, Glyndebourne Festival Opera and at the BBC Proms, La Fée in Damiano Michieletto's production of Cendrillon at Komische Oper Berlin under Henrik Nanasí, Waldvogel in Daniel Barenboim's epic Ring Cycles at Teatro alla Scala, Le nozze di Figaro (Susanna) and Der Rosenkavalier (Sophie) at Den Norske Opera, Pamina in Simon McBurney's acclaimed staging of Die Zauberflöte at Festival d'Aix-en-Provence, Dutch National Opera and Opernhaus Zürich and, most recently, her first Donna Anna (Don Giovanni) in a semi-staging with Swedish Radio Symphony Orchestra, conducted by Daniel Harding.
Mari Eriksmoen's 2021/22 season opens with staged productions of Fidelio (Marzelline) at Opéra Comique conducted by Raphaël Pichon, and Die Zauberflöte at Theater Basel, and she joins Stefan Gottfried and Concentus Musicus for Purcell's The Fairy Queen at Vienna's Musikverein, Ed Gardner and Bergen Philharmonic Orchestra in Mozart's Der Schauspieldirektor (Mademoiselle Silverklang), and Kent Nagano and the Radio Filharmonisch Orkest in Abrahamsen's The Snow Queen (Gerda) at Amsterdam's Concertgebouw. In the concert hall, Mari sings Brahms' Ein Deutsches Requiem with both the Münchner Philharmoniker and Paavo Järvi and on tour with Ensemble Pygmalion and Raphaël Pichon, and appears in recital at the Edinburgh International Festival with Daniel Heide, and Tivoli Festival with Malcolm Martineau, both in a programme of Grieg, Grøndahl and Wolf.

As part of the 2019 Bergen International Festival, Mari Eriksmoen presented the world premiere of Waiting, a symphonic passion conceived and staged by Calixto Bieito, based on Henrik Ibsen's Peer Gynt and set to the music of Edvard Grieg, conducted by Eivind Gullberg Jensen. Critically acclaimed, the production has since been presented at Teatro Arriago Bilbao, Tivoli Concert Hall Copenhagen, the Russian Drama Theatre in Vilnius, and at Opéra national du Rhin, Strasbourg.

Much in demand on the concert platform, Eriksmoen has appeared with Berliner Philharmoniker/​Ivan Fischer (Mendelssohn's A Midsummer Night's Dream), Orchestre de Paris/​Daniel Harding (Schumann's Faustszenen), Danish Radio Symphony Orchestra/​Juanjo Meña (Mozart's Coronation Mass), Oslo Philharmonic Orchestra/Jukka-Pekka Saraste (Mahler's Symphony No.8) and regularly with the Bergen Philharmonic Orchestra/​Ed Gardner, most recently in Britten's Les illuminations and Canteloube's Chants d'Auvergne, also recorded for future release on Chandos.

Mari Eriksmoen recently added to her discography with a first solo orchestral disc showcasing arias by Handel and Mozart with the Stavanger Symphony Orchestra and Jan Willem de Vriend (Challenge Classics), and her debut recital disc (Alpha) with pianist Alphonse Cémin was considered ​"poised, elegant and persuasive" (The Guardian). Eriksmoen otherwise features in Schumann's Szenen aus Goethes Faust with Symphonieorchester des Bayerischen Rundfunks under Daniel Harding (Naxos), and Mozart's Die Entführung aus dem Serail with both Akademie für alte Musik Berlin under René Jacobs (harmonia mundi) and Glyndebourne Festival conducted by Robin Ticciati (Opus Arte DVD).
Gallery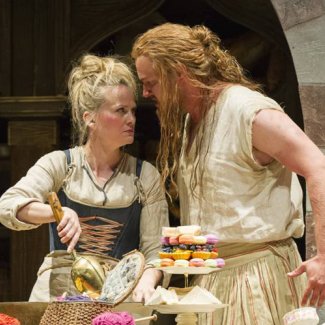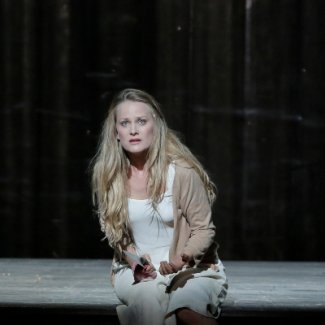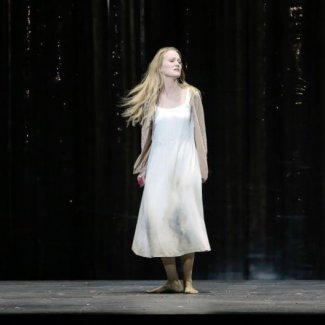 "Mari Eriksmoen is distinguished by an exquisite musicality, a radiant line of singing endowed with an even ethereal tone"
(Olyrix, July 2021)
"she is a star here…The runs in the martial aria from Mitridate are perfectly placed, as they are in Donna Anna's ​'Non mi dir'. Eriksmoen captures the restlessness of Ilia's first aria and she sounds suitably vengeful in Alma grande e nobil core…enjoy the top-drawer singing."
(Gramophone, May 2021)
"Norwegian soprano Mari Eriksmoen presents a recital of arias by Handel and Mozart…and the focus, after all, is Mari Eriksmoen's voice, it is superb. The natural grace of the light, agile and confident soprano, the cultivated declamation and fresh liveliness, but also the often moving empathy of her singing show an artist who fully convinces with a stylistically confident musicality."
(5*, Pizzicato.lu, February 2021)
"Mari Eriksmoen as Servilia presented a fresh, sweet sound"
(OperaMag, Feb 2020)
"With her precise and clear timbre, soprano Mari Eriksmoen firmly establishes her ability with this music. With great sensitivity and very flexible phrasing, her voice builds in ​"Ah no lasciarmi, no" at the mention of the departure of her lover and she finishes the aria beautifully at the top of her range. In ​"Ridente la calma", she brings a more voluptuous tone, complementing the caressing bass."
(Olyrix, December 2019)
"Mari Eriksmoen (Servilia) exudes a youthful timbre, which assures linden beauty of the only catchy tune of the evening."
(Wienerzeitung, October 2019)
"Equally impressive is Mari Eriksmoen as Servilia. Technically perhaps the cleanest voice of the evening, excellently supported especially at the top of the range, and artistically at the highest level, Eriksmoen puts an explicit exclamation mark after her name! In her aria ​'S'altro che lacrime,' the Norwegian soprano sings so emphatically that crying does not help, but the audience was close to tears at this gorgeous vocal performance."
(Klassik-begeistert.de, October 2019)
"Soprano Eriksmoen is the heart and lifeblood of Waiting. Her voice is radiant; her performance, breathtaking."
(ClassicalVoiceAmerica, May 2019)
"Mari Eriksmoen and [her Tamino] made a wonderful princely couple, both looking and sounding beautiful…Eriksmoen was just as clear, just as unforced and showed how Mozart can tug at the heartstring"
(Bachtrack, July 2018)
"Mari Eriksmoen is a Pamina who combines grace with determination, a pure voice but with strength, and a dancer's elegance"
(Forum Opéra, July 2018)
"Mari Eriksmoen is a delicate, sensitive Pamina"
(L'Avant-Scène Opéra, July 2018)
"The most magnificent in the cast was the Mélisande of Mari Eriksmoen, a lyrical soprano who sings with perfect clarity. With her lithe silhouette and Scandinavian looks, she fully embodies the fascinating heroine, at once fragile and extremely determined"
(L'Avant-Scène Opéra, February 2018)
"The big star in Debussy's Pelléas et Mélisande is Mari Eriksmoen. The Norwegian soprano impresses from the opening scene right up to her deathbed"
(Volkskrant, February 2018)
"Soprano Mari Eriksmoen is a clear-voiced Mélisande and perfectly portrays the exceptional nature of this almost extra-terrestrial character"
(Bachtrack, February 2018)
"Mari Eriksmoen dominates the cast with an almost perfect Mélisande in her debut performance"
(Forum Opéra, February 2018)
"In the role of Mélisande, the Norwegian soprano Mari Eriksmoen makes a resoundingly impressive debut at Opera Vlaanderen: her French diction was faultless, her voice like crystal, and she embodies the hypnotising fragility of this heroine to perfection."
(Toute la culture, February 2018)
"A delicate, diaphanous beauty and Scandinavian blonde, the radiant Norwegian soprano Mari Eriksmoen succeeds in her debut as Mélisande"
(Concertonet.com, February 2018)
"Mari Eriksmoen has the agile freshness of Hanne [Haydn's The Seasons], a pure voice sometimes reminiscent of a Gundula Janowitz."
(Concertonet, December 2017)
"Mari Eriksmoen's lip-biting Zerlina left no doubt as to her being an ideal first choice in her highly-charged, kittenish reading…Vocally sailing through the part, this Zerlina whet one's appetite for greater challenges to come."
(The Opera Critic, December 2016)
"Zerlina is the focus of the cast. Mari Eriksmoen sings the role with her clear, flexible and wonderfully coloured soprano"
(News.at, December 2016
"The performance is led by Mari Eriskmoen as a charming Zerlina"
(Salzburger Nachtrichten, December 2016)
"Mari Eriksmoen, with her bright and agile soprano, is an ideal Zerlina"
(Die Presse, December 2016)
"Mari Eriskmoen was especially successful in creating a thoroughly strong character in Zerlina"
(Wiener Zeitung, December 2016)
"Mari Eriksmoen is a suitably fearless Blonde."
(Opera Magazine, Hugo Shirley, September 2016)
"Radiating an abundance of melodious sound and filling the theatre is Mari Eriksmoen as La Fée, with her magically mellifluous coloratura"
(Die Welt, June 2016)
"[As La Fée], Mari Eriskmoen produces the most alluring, shimmering coloratura; pure magic."
(Der Tagesspiegel, June 2016)
"Rising soprano Mari Eriksmoen has chosen her repertoire for this disc well…Her selection of nine songs by Hugo Wolf emphasises a sense of mischief, and the recording captures well the crystalline yet supple quality of her voice and her direct, communicative way with text. Her Strauss selection includes three of the Ophelia Songs, which she makes sound at once confiding and otherworldly…Eriksmoen is even more persuasive in her native Norwegian. Five songs by Grieg find her relishing each word – A Bird's Song sounds especially posied and elegant."
(Erica Jeal, The Guardian, February 2016)
"Mari Eriksmoen was a Blonde to rival that of Lucia Popp in the old Josef Krips recording, the stage presence a continual source of vitality and the beauty of tone endlessly beguiling."
(Roger Parker, Opera Magazine, August 2015)
"Mari Eriksmoen [gave a] beautifully-sung live-wire performance as Blonde."
(Michael Church, Independent, June 2015)
"Mari Eriksmoen has a clear, agile soprano and light vibrato with which she spun fine pianos and gave a credible depiction of the caring, boisterous and naïve girl."
(Hedy Mühleck, Bachtrack, August 2015)
"The Norwegian soprano Mari Eriksmoen was lively and vocally excellent as Rosina."
(Susanna Dalmonte, Deutschland Radio, February 2015)