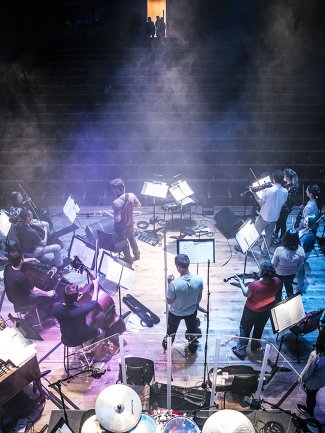 ©
Photo: Manchester Camerata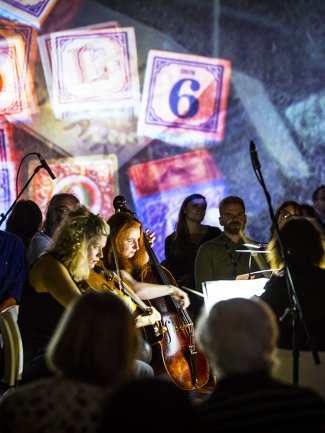 ©
Photo: Manchester Camerata
Rafi Gokay Wol
Director & Head of Creative Partnerships & Tours
'Britain's most adventurous orchestra'

(The Times)
Manchester Camerata is a registered charity working and performing in Manchester and worldwide since 1972.
Be it opening Glastonbury festival in front of 40,000 people or working intimately in care homes with people living with dementia, Manchester Camerata believes in the transformative and connecting nature of music. That connection drives them, and the orchestra works with the best creative talent to make this happen.
With its live performances, Camerata plays music with no boundaries. From an orchestral rave performed in isolation to over one million people during the Covid-19 pandemic, to touring Mozart in the most beautifully intimate concert halls, or re-imagining classical music with electronic producers at the top of their game, Camerata believes great music is great music and presents this to you at the highest level.
To achieve its artistic excellence and forward-thinking ethos, collaboration is at the heart of everything Camerata does. Led by its visionary Music Director, Gábor Takács-Nagy, the orchestra collaborates with diverse international artists, from Martha Argerich to New Order and Aziz Ibrahim to Lewis Capaldi. Its long-term artistic partnerships with Jean-Efflam Bavouzet, Jess Gillam and AMC Gospel Choir sit alongside performances and tours with eminent artists such as Pinchas Zuckerman, Arvo Pärt, Yefim Bronfman, Javier Perianes, István Várdai and Leticia Moreno amongst others.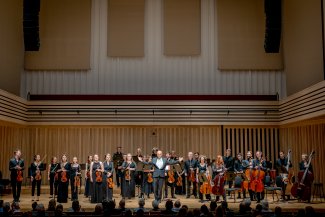 In partnership with Chetham's School of Music, Camerata has embarked on a five-year collaborative project to perform and record all of Mozart's piano concertos, bringing together world-famous pianist Jean-Efflam Bavouzet and Camerata Music Director, Gábor Takács-Nagy, to perform at Chetham's exceptional concert venue, The Stoller Hall. The series to date has received international acclaim and ​'is shaping up to be a serious front-runner in a cycle of works that has never wanted for fine recordings' (Gramophone).

Collaboration is just as evident in the orchestra's award-winning health and wellbeing work. Its specialist Camerata in the Community team works with world-leading researchers and practitioners in the field of dementia to deliver impactful and meaningful music therapy. This sector-leading approach has led the orchestra to teach best practice in Japan, Taiwan and Sweden with the British Council through years of experience and research in association with the University of Manchester.

As a charity, Manchester Camerata puts its communities first.

The orchestra's schools programme uses music as a vehicle to help young people thrive personally, academically and socially. Camerata trains and upskills teachers and practitioners to embed creative music-making in school life and to ensure its ongoing impact.

As an arts organisation, Manchester Camerata is accountable to the communities it serves. Over the last 48 years, the orchestra has been on an incredible journey of impact for and with its communities, and as it approaches its 50th anniversary in 2022, the orchestra would love to share these moments with you.
'This series of discs is shaping up to be a serious front-runner in a cycle of works that has never wanted for fine recordings.' … ​'For this concerto pairing, there are few recordings as fine.'
(Gramophone)
'Takács-Nagy's Manchester musicians lavish on the orchestra parts a dreamy quality of rapture. The interplay between the pianist and the woodwind soloists is especially rewarding in these compelling performances.'
(The Sunday Times, album of the week)
"…this is rapidly becoming THE modern instrument cycle of choice."
(Richard Hanlon – MusicWeb-International.com)
Energetic Mozart up there with the very best… soloist, conductor and orchestra conjure up a magical soundworld'
(BBC Music magazine *****)
Rafi Gokay Wol
Director & Head of Creative Partnerships & Tours