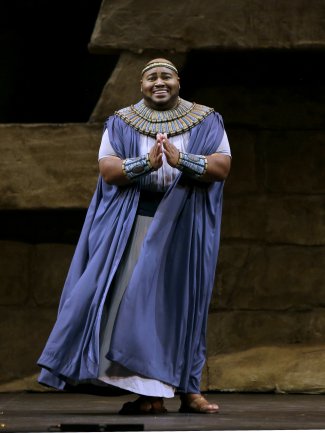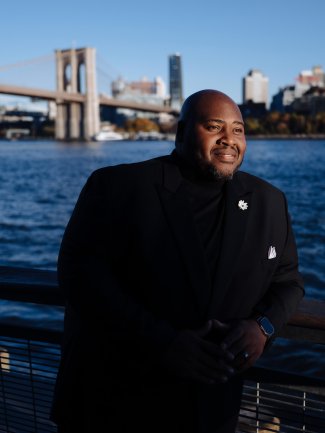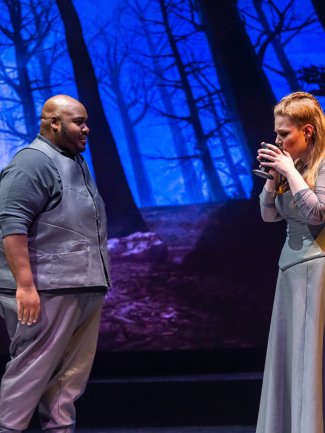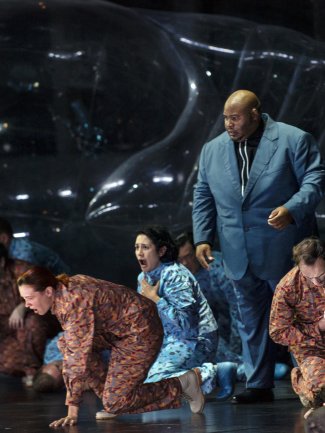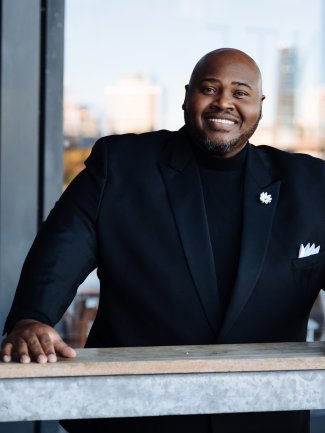 "….. I wasn't prepared for the easy, rich, warm sound that poured out of him in one of the most beautiful arias in the repertory…a world-class voice."

(Anne Midgette - The Washington Post)
When he swept the board of top prizes at the Seattle International Wagner Competition, a spotlight immediately shone on Issachah Savage. Since then, he has firmly established himself as one of today's most impressive young heldentenors, making recent acclaimed debuts as Siegmund in Die Walküre with Opéra National de Bordeaux conducted by Paul Daniel, as Froh in Das Rheingold with Rotterdam Philharmonic Orchestra, conducted by Music Director Yannick Nézet-Séguin, as Tӓnnhauser at Los Angeles Opera, conducted by James Conlon and as Bacchus in Strauss' Ariadne auf Naxos at both Théâtre du Capitole Toulouse under Evan Rogister, and at Seattle Opera under Lawrence Renes.
Other operatic milestones of Issachah Savage's past seasons include his debut as Radames in Verdi's Aida at Houston Grand Opera, a role he further performed at Austin Lyric Opera under the baton of Antonino Fogliani, with Boston Symphony Orchestra at Tanglewood under Jacques Lacombe and at the Aspen Music Festival under conductor Robert Spano having previously appeared as the Messenger in the same piece with Chicago Symphony Orchestra under Riccardo Muti. He made his debut at Metropolitan Opera as Don Riccardo in Verdi's Ernani under James Levine, returning in the 2022/23 season as Gran Sacerdote di Nettuno in Idomeneo under Manfred Honeck, a role he previously performed in Peter Sellars' acclaimed staging at the 2019 Salzburg Festival, conducted by Teodore Currentzis. Issachah Savage made his Los Angeles Opera debut as Narraboth in Salome, his debut at Lyric Opera of Chicago as Curtis Toler in Daniel Bernard Roumain's The Walkers, part of the world premiere tetralogy Proximity, he appeared as Siegmund under Music Director Johannes Debus at Canadian Opera Company, performed the title role in Wagner's lesser-known Rienzi with National Philharmonic at Strathmore, and performed alongside Elina Garanča in Massenet's La Navarraise with Opera Orchestra of New York.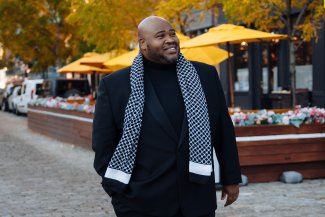 Formerly a member of San Francisco's prestigious Merola Opera Program, Savage's final act performance of Verdi's Otello there inspired the San Francisco Chronicle to write,​"from his opening notes — impeccably shaded and coiled with repressed fury — to the opera's final explosion of grief and shame, Savage sang with a combination of power and finesse that is rare to observe", going on to sing the full role in concert with Marco Parisotto conducting Orquesta Filarmónica de Jalisco and in production with Austin Lyric Opera.

In the upcoming 2023/24 season, Issachah Savage returns to Théâtre du Capitole Toulouse in his debut as Kaiser in Strauss' Die Frau ohne Schatten under Frank Beermann, sings Narraboth in concert performances of Salome with Houston Symphony Orchestra under Juraj Valčuha, joins Sebastian Weigle and Bergen Philharmonic Orchestra for Mahler's Das Lied von der Erde, sings Mendelssohn's Elijah with Chicago Symphony Orchestra under James Conlon and debuts with Atlanta Symphony Orchestra and Nathalie Stutzmann in Verdi's Messa di Requiem.

Strongly in demand for the concert platform, Issachah Savage has performed Beethoven's Symphony No.9 with many major orchestras and conductors including Gustavo Dudamel and Los Angeles Philharmonic, Xian Zhang and San Francisco Symphony, Gianandreas Noseda and National Symphony Orchestra, Jaap van Zweden and New York Philharmonic, Fabio Luisi and Dallas Symphony Orchestra, Gustavo Gimeno and Toronto Symphony Orchestra and Riccardo Muti and Chicago Symphony Orchestra among others. In Verdi's Messa da Requiem, he has appeared with Melbourne Symphony Orchestra, Colorado Symphony, Detroit Symphony Orchestra, Boston Philharmonic and Los Angeles Master Chorale, and he sang Mahler's Das Lied von der Erde firstly with Omaha Symphony Orchestra, and subsequently under Paul Daniel and l'Orchestre National Bordeaux-Aquitaine. Savage joined Fabio Luisi and Danish National Symphony Orchestra in performances of Schoenberg's Gurrelieder and appeared with Jacksonville Symphony Orchestra in Stravinsky's Pulcinella. Other orchestral performances for dramatic tenor include the world premiere of Wynton Marsalis's All Rise with Kurt Masur and New York Philharmonic, the world premiere of Leslie Savoy Burr's Egypt's Night with Philadelphia's Opera North, Gershwin's Blue Monday with Marin Alsop and Baltimore Symphony Orchestra and Kurt Weill's Lost in the Stars with Los Angeles Chamber Orchestra.

In addition to his great competition success in Seattle, Issachah Savage has received a number of prestigious awards, recognition and career grants from institutions including the Wagner Societies of New York, Washington DC and Northern California, Licia Albanese International Puccini Foundation, Olga Forrai and Gerda Lissner Foundations and he was honoured in the early stages of his career development as the first ever​'Scholar Artist' of the Marian Anderson Society of Philadelphia.
"Savage made his mark, his voice soaring over the pulsating orchestra."
(Opera Wire, David Salazar, September 2022)
"Issachah Savage managed best as Tannhäuser. The American tenor displayed a big, lyric sound — but most impressive was his German diction. This, along with his impassioned facial expressions, made for an intimate performance — his Tannhäuser felt and sounded like a truly emotive Lieder singer."
(Opera Magazine, January 2022)
"Savage proved his mastery."
(Opera War Horses, William Burnett, October 2021)
"American tenor Issachah Savage, the Tannhäuser, has a mighty voice that is loud but compact; assertive, yet capable of tenderness; and invested with unflagging energy. Savage's Tannhäuser was everything Wagner wanted — ​"nowhere and never ​'a little,' but each thing fully and entirely." Savage sustained this unnervingly split personality with great power."
(Opera News, October 2021)
"Savage is among those rare singers who can be clearly heard above a full Wagnerian orchestra and chorus — a truly thrilling sound."
(Opera News, October 2021)
"Wagner's writing for tenor, in general and Tannhäuser specifically, could never be called grateful. Yet Mr. Savage met all these challenges head on and with a fearsome musicality and unexpected grace."
(Parterre, October 2021)
"Issachah Savage channelled his lavish, buoyant tenor into directness and simplicity. He gave an easy, expansive sincerity."
(Wall Street Journal, May 2021)
"The American tenor sings this punishing role, composed by a sadistic Strauss, as if it were a lullaby. The voluminous and ample voice blooms naturally, and his technique, acquired in the best American schools, assures him all the rest: breath, diction, style, and especially stamina."
(Forum Opéra, April 2019)
"Issachah Savage, a promising young dramatic tenor, sang Narraboth's lines with shining bronze tones."
(Opera Today, February 2017)
"Tenor Issachah Savage surmounted the soaring ​"Ingemisco," not just deploying operatic sobs, but seeming to expand one until it enveloped the hall."
(Boston Globe , April 2016)
"Savage has that rarest of instruments: a large voice of melting beauty. He wielded it with ease and grace through a long night of singing, marshalling his energy wisely so that he had plenty to give where it counted, especially the Act V prayer, the evening's showpiece…He's got a voice that makes you want to hear more of it — and the night belonged to him."
(Washington Post, October 2015)
"… the young tenor sang with bewitching tonal beauty and majestic amplitude that underscored his top prize in last year's Seattle International Wagner Competition."
(Seattle Times, May 2015)
"When Savage sang the opening line of yesterday's Die Walküre, we immediately knew that we were in store for something quite different. Instead of the usual tenor with baritone colouration and vocal heft, we had a lyric, unforced dramatic tenor, lighter in colour and yet powerful. Savage was careful to pace the first two acts in which he appears – building from strength-to-strength. The roaring ovation that greeted him when he walked out on stage for his curtain call was of a quality and pitch usually reserved for only the greatest of singers."
(Musical Toronto, February 2015)
"He has a robust, ringing tenor, and he also sings lyrically, with a young, healthy sound. It was a creditable vocal debut from a very promising singer."
(Wall Street Journal, February 2015)
"…tenor Issachah Savage proved a tremendous, heroic Lohengrin. The line of his gorgeous voice in ​"Mein lieber Schwann" was seamless, the energy unflagging."
(Jason Victor Serinus, San Francisco Classical Voice)
"….. I wasn't prepared for the easy, rich, warm sound that poured out of him in one of the most beautiful arias in the repertory…a world-class voice."
(Anne Midgette, The Washington Post)