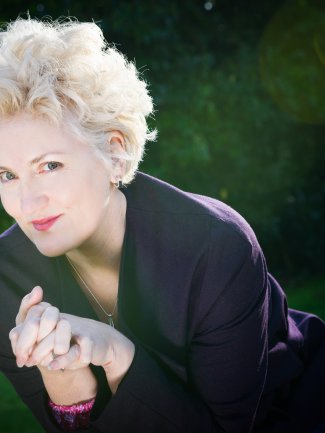 ©
Photo: Paul Foster-Williams
"the British soprano rockets herself into the Wagnerian premiere league with this performance. Her timbre has always been unique – imagine Kathleen Ferrier up an octave"

(Richard Morrison, The Times)
Soprano Emma Bell has in recent seasons moved on from the Mozart heroines with whom she established her career to the key jugendlich-dramatisch roles, recently making house debuts at Bayerische Staatsoper as Eva (Die Meistersinger von Nürnberg) under Kirill Petrenko, at Deutsche Oper Berlin as both Elisabeth and Venus (Tannhäuser) under Sebastian Weigle, at Opernhaus Zürich as Leonore (Fidelio) under Markus Poschner and at Staatsoper Hamburg as Elsa (Lohengrin) under Simone Young.
A wide and varied early career has taken Bell to Teatro alla Scala as Anne Trulove (The Rake's Progress), Elettra (Idomeneo) and Donna Elvira (Don Giovanni), to the Metropolitan Opera as Contessa Almaviva (Le nozze di Figaro) and Donna Elvira, and to the Teatro Real Madrid, Glyndebourne Festival Opera, The Dallas Opera and Staatsoper Unter den Linden in Britten's The Turn of the Screw. In more recent seasons Bell has appeared as Elisabeth at Bayerische Staatsoper under Simone Young, Madame Lidoine (Les dialogues des Carmélites) at Staatsoper Hamburg under Kent Nagano, as Strauss' Arabella at Oper Köln and as both Eva and Leonore for Opernhaus Zürich. On the stage of the Royal Opera House, Covent Garden, she has received praise as Eva, Madame Lidoine and Elisabeth and her return to Glyndebourne Festival in 2018 as the title role in Keith Warner's celebrated production of Vanessa was met with critical acclaim, the Guardian writing ​"Bell gives one of her finest performances to date, beautifully acted, her voice soaring with elation and anguish".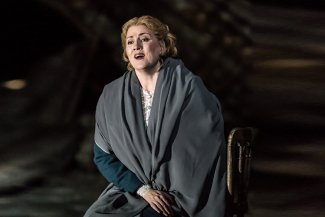 During the 2021/22 season Emma Bell makes two role debuts at English National Opera, as Sieglinde in a new production by Richard Jones of Die Walküre under the baton of Martyn Brabbins and as Aunt Lydia in The Handmaid's Tale which will be a new staging by Annilese Miskimmon conducted by Joana Carneiro.

An engaging concert performer, Emma Bell has collaborated with Sir Antonio Pappano on works such as Vier letzte Lieder with the London Philharmonic Orchestra and both Rossini's Stabat Mater and Beethoven's Missa Solemnis with the Accademia Nazionale di Santa Cecilia. A recent tour of Britten's War Requiem with Orchestre de Paris and Daniel Harding included performances in Paris, Vienna and at the Edinburgh Festival and her debut as Magna Peccatrix (soprano I) in Mahler's mighty Symphony No.8 with the National Taiwan Symphony Orchestra under Lan Shui was met with unanimous acclaim. She joined the Hallé Orchestra and Sir Mark Elder as Freia in concert performances of Das Rheingold, subsequently released on CD. In core works such as Beethoven's Symphony No.9, Strauss' Vier letzte Lieder and Wagner's Wesendonck Lieder, Bell has appeared regularly including with the Gothenburg Symphony and Kent Nagano, the London Philharmonic Orchestra under Vladimir Jurowski, and the BBC Philharmonic Orchestra under Gianandrea Noseda.
Gallery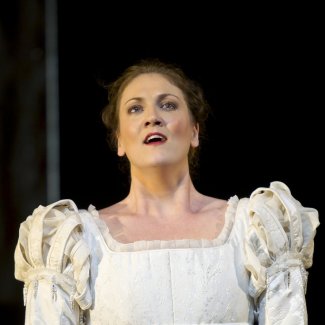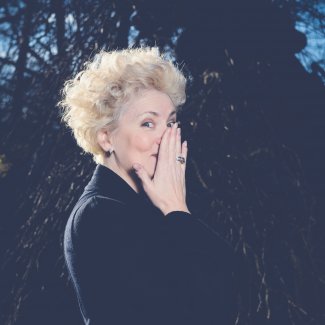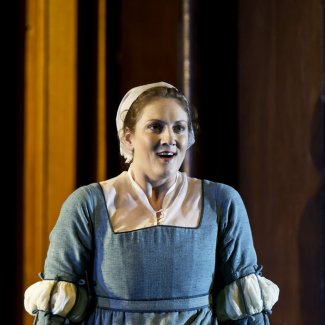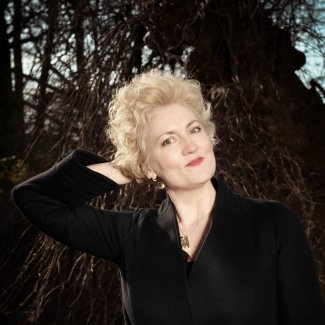 "Other outstanding portrayals include Emma Bell, singing heroically as authoritarian Aunt Lydia."
(FT, April 2022)
"The Aunts are led by Emma Bell's ferocious Aunt Lydia, whose stratospheric coloratura vocal line is as taut as a steel wire but who, when joining in the singing of hymns, ironically proves capable of sweet sincerity. Bell whips up a terrifying tension, viciously relishing her control"
(Opera Today, April 2022)
"…a cast that is wholly magnificent, with Emma Bell issuing terrifying power as Aunt Lydia, the handmaids' controller, in coloratura vocal writing that is ferociously convoluted and unnatural – perfect to convey the perverted logic of her directives."
(The Arts Desk, April 2022)
"Emma Bell acts with the requisite narcissistic passion and sings with security and point"
(Opera Magazine, October 2019)
"the cast is excellent. Emma Bell's Vanessa captures the pent-up frustration of the character, her soprano ringing free."
(All Opera Now, August 2019)
"Finally, the soprano Emma Bell captures without fail the many strong passages of the score, with dark toned voice but crystal clarity, all served by an irreproachable projection and oh how necessary in this work."
(FORUM OPERA, May 2019)
"her Matilde radiated exciting, fearless, house-filling vocalism … Bell hit her notes with an intensity and purity that really made you believe."
(Opera Magazine, June 2019)
"Emma Bell , quintessentially the ideal kind of full, dark Wagner soprano, responded with queenly poise and command, her clearly dictioned words winging their way across orchestra and auditorium. If Renes provided the paragraphing of the music, she it was who touched the poet's phrasing – spinning spells of unendlich anhaltende Liebe, eloquently paced and peaked. Twenty-three distinguished minutes."
(Classical Source, January 2019)
"Warner also drew brilliantly and beautifully acted performances from the entire cast…Pent up with waiting, Emma Bell's Vanessa soared with lustrous top notes, and she found that tone of knowing self-deception – understanding more of the situation than she allows herself to admit."
(Opera Magazine, John Allison, October 2018)
"Musical values represent the company at the very top of its game, with soprano Emma Bell alternately portraying a seer-like figure and a universal mother, her empowered vocalism setting the seal on the central trio of principals."
(The Stage, November 2018)
"A love triangle with a difference, the story was brought brilliantly to life on the Glyndebourne state, the warmth and clarity of soprano Emma Bell's Vanessa a standout triumph. This is a voice that cries out for Janacek"
(Classical music magazine, October 2018)
"Emma Bell is a painfully fragile Vanessa who veers between elated rapture, soaring gleamingly at the peaks, and agitated restlessness. Like Tennessee Williams' Blanche DuBois, Vanessa is feverish from the first and Bell uses the florid ornamentation and chromatic disruption of the vocal line to convey her impetuousness and her anguish."
(Opera Today, July 2018)
"Bell gives one of her finest performances to date, beautifully acted, her voice soaring with elation and anguish, even as Vanessa becomes increasingly deluded as to Anatol's true nature."
(The Guardian, Tim Ashley, July 2018)
"Emma Bell gets some big singing as Vanessa, in which she is impressively fearless, and creates a highly charged character, coming alive with all the pent-up emotions of the previous 20 years."
(Financial Times, Richard Fairman, July 2018)
"English soprano Emma Bell's Governess sings ravishingly, beautifully molding and coloring every phrase, but also vividly portraying her battle with demons, whether internal or external."
(Dallas Morning News, March 2017)
"The response of Emma Bell's Ludmila was genuinely luminous; her tone was pristine, heroic and swelled with the exultation of one who has genuinely seen the light."
(Guardian, May 2016)
"Sung with poise and sincerity by Emma Bell, Ludmila emerges as a Victorian heroine."
(Anna Picard, The Times, May 2016)
"That woman, Elisabeth, is played by Emma Bell and the British soprano rockets herself into the Wagnerian premiere league with this performance. Her timbre has always been unique – imagine Kathleen Ferrier up an octave – but now Bell shows so much more: perfect intonation, tenderness, subtle variation, compelling acting."
(Richard Morrison, The Times, April 2016)
"Emma Bell looked wonderful, acted sensitively and was at her impassioned best in the latter half of Act 2. The audience acclaimed her with special warmth."
(Rupert Christiansen, Telegraph, April 2016)
"Emma Bell's Elisabeth emerged as a fully convincing stage presence (somehow both formidable and vulnerable as the bride-in-waiting)…her quiet singing in Act 3 was particularly enchanting."
(Opera Magazine, July 2016)
"Emma Bell makes a rich-toned, nobly assertive Elisabeth."
(Tim Ashley, Guardian, April 2016)
"Emma Bell was the ideal Elisabeth…Beautiful to look at, a radiant stage presence, passionate and poignant, she was by far the star of the show. She made one of the most exciting entrances I have seen, and her defence of her wayward lover had all the required power and intensity. This was one of the great Wagnerian assumptions at the Royal Opera in recent years."
(Spectator, May 2016)
"Emma Bell's Elisabeth is commandingly expressive."
(Independent, April 2016)
"Emma Bell is not only warm and secure in tone as Elisabeth, but tingling with sensuality."
(Evening Standard, April 2016)
"a sizeable voice and sang the demanding role fearlessly."
(Anthony Tommasini, New York Times, February 2015)
"The role's fierce musical glories (superbly rendered by the soprano Emma Bell"
(The New Yorker, February 2015)
"It is almost invidious to single out individual performances in what was an impressive collective achievement, but Emma Bell deserves pride of place for her overwhelming performance as the Governess, an assumption that by vocal and dramatic means brought the character to frightening life."
(Opera Magazine, February 2015)