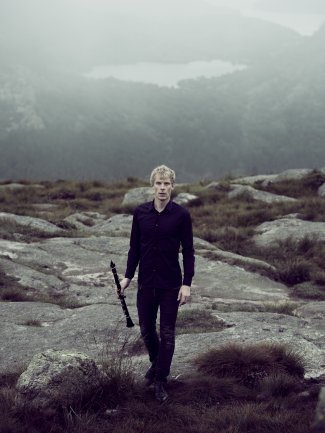 The project forms part of Martin Fröst's triptych collaboration with the Royal Stockholm Philharmonic Orchestra in a daring exploration of repertoire and performance.
Retrotopia is the latest in Martin Fröst​'s ground-breaking projects, challenging the boundaries of how classical music concerts are perceived. Developed in collaboration with the Royal Stockholm Philharmonic Orchestra (the third such presentation, following ​'Dollhouse' in 2013 and ​'Genesis' in 2015) — Fröst and the Orchestra present unprecedented ways of combining music and gesture, resulting in a thematically cohesive entity.
The project transforms traditional performance conceptions and expands the clarinet repertoire with a new commission by Jesper Nordin, Emerge. It is a visionary piece in which the Gestrument (a new motion-sensor technology developed by the composer) controls a virtual orchestra based on Fröst's movements, creating a unique palette of sound colours. Various other new pieces can be included, depending on the setting, amongst them Exodus: Departure by Victoria Borisova-Ollas, Angelus Novus by Jacob Muhlrad, and Nomadia by Martin and his brother, Göran Fröst. All placed in focus alongside the music of Mozart and Beethoven, two composers of seminal importance for Martin.
Retrotopia is the artist's personal quest of looking ahead into the unknown, whilst still remaining attached to the past. ​"I think we are very much fond of reminiscing about the past, so I'm starting in the classical repertoire with Mozart and Beethoven… In general, it frightens people when something ends and something new begins. Because then we start to look back. We become pessimistic, nostalgic, but ultimately, we must take that step into the future, otherwise we remain at a standstill. The question is: in which direction?" he explains. The project is not just an artistic mission, but an undertaking that explores the question of where the music goes when it all becomes silent, underpinning Fröst's introspective approach to his work. As he conveys to the audience during the performance, ​"music perhaps resounds constantly, whether we are playing it or not… Researchers say that the reason they feel certain that the Big Bang took place is because a sort of echo of the event itself remains in the universe — a sort of… memory, the universe's memory. "

Fröst premiered ​'Retrotopia' in Stockholm in May 2018 with the Royal Stockholm Philharmonic Orchestra. Future performances include the Bamberger Symphoniker in November 2018 and with hr-Sinfonieorchester in Frankfurt in May 2019.
Iarlaith Carter
Associate Director, Artist Management