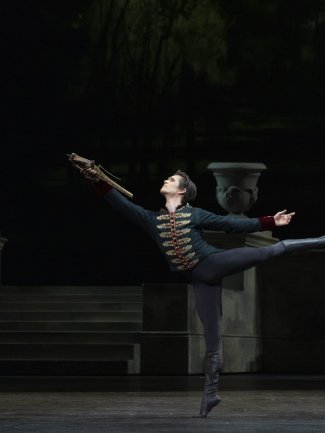 A Conversation With… William Bracewell
31/10/2023
A conversation with… is a Dance blog series
Who was your first role model in dance?
My first role model in dance was probably my initial ballet teacher Pamela Miller. She taught the Cecchetti method to me which has a real focus on the arms ​"port de bras" which has stuck with me since. She was and still is a huge support and encouraged me to push through when I had moments of being unsure if ballet was the right fit. I'm so grateful for her drive and passion to encourage little Billy.
What productions/​projects have been a particular career highlight for you?
It's so hard to pick a single one, I've danced hundreds of performances around the world but what makes something really special is the connections you make. Whether that's with a partner when you're both completely in sync without conscious thought as to the other person's movements solely finding a shared feeling or perhaps with an audience whose energy you can harness to raise elements of the performance to a place you hadn't taken it before. I also always find strength and inspiration from the incredible musicians I get to work with, mainly large orchestras but often it's the behind-the-scenes pianists we work with in the studio daily that inspire me.
Can you tell us about any roles/​projects you have coming in the next year that you are looking forward to?
It's a wonderfully big year for me here at The Royal Ballet with at least five debut roles and many more to revisit. Coming up very soon is The Dante Project, a piece created by Wayne McGregor based on Dante Alighieri's Divine Comedy. It's a deep dive into humanity, the meaning of life, spirituality, love, sin and so many other things. A huge task to say the least to portray the role of Dante but Wayne's choreography is such an incredible piece of work that allows space to breathe and talk so I'm loving finding his character.
What are your hobbies/​passions outside dance?
I love to garden, it's become more of an obsession and the only books I read at the moment are on gardening or landscape design. I find it to be a complete contrast to being outside in the sun or rain planting and thinking about combinations or the future as opposed to the indoor studio/​stage life that I spend most of my time doing.
You are an avid environmentalist. Can you tell us a bit more about that?
It really leads in from my love of gardening, I think if we were to encourage a generation of gardeners the world would be a much brighter, richer place in terms of connection to nature, understanding of climate and both mental and physical health. I think once you've had a chance to care for even a small part of the natural world even if that's a highly curated garden or small window box, it gives you empathy toward the wider landscape and the world that is much bigger than humanity. In essence, it's quite a humbling exercise that can put life into perspective for me at least.
Henry St Clair
Senior Manager, Dance