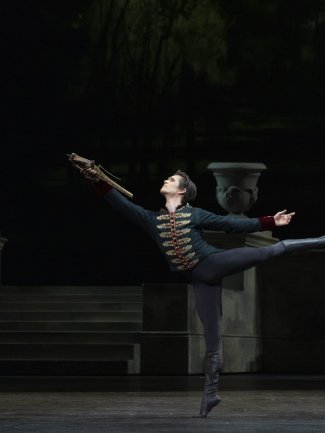 HarrisonParrott Dance welcomes William Bracewell
29/4/2022
HarrisonParrott is delighted to welcome Welsh dancer William Bracewell to its roster.
Bracewell is a First Soloist at The Royal Ballet. He trained at The Royal Ballet School. Awards while a student includes the 2007 Young British Dancer of the Year Award and the grand prix at the 2010 Youth America Grand Prix. He joined Birmingham Royal Ballet in 2010, promoted to First Artist in 2012 and to Soloist in 2014. He joined The Royal Ballet in 2017 and was promoted to First Soloist in 2018.
His repertory with The Royal Ballet and BRB includes Romeo, Prince Siegfried, Polixenes, Prince (The Nutcracker), Franz (Coppélia), Oberon (The Dream), Prince (Cinderella), Ferdinand (The Tempest), Salamander Prince (David Bintley's The Prince of the Pagodas), First Seminarian (Carmina Burana), Bluebird (The Sleeping Beauty) pas de six (Giselle), Rajah/​Caterpillar (Alice's Adventures in Wonderland), Ted Feltham (Unknown Soldier) and roles in Dances at a Gathering, Symphonic Variations, Tombeaux, Obsidian Tear, Les Rendezvous, Elite Syncopations, ​'Still Life' at the Penguin Café, Theme and Variations, Untouchable, Sylvia, and Asphodel Meadows.
His role creations for BRB included Le roi soleil (Bintley's The King Dances), Alexander Whitley's Kin and Jessica Lang's Lyric Pieces. He has created roles for The Royal Ballet in Yugen and Corybantic Games.
Bracewell's other awards include Outstanding Male Performance (Classical) at the 2015 Critics Circle National Dance Awards.
Henry St Clair
Senior Manager, Dance Department