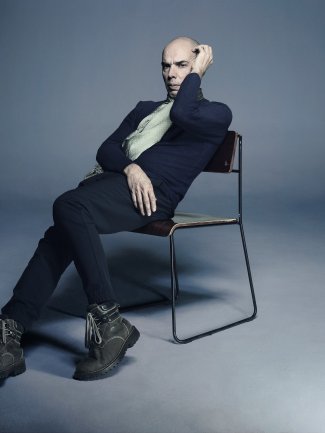 A Conversation With… Javier De Frutos
9/10/2023
Who was your first role model in dance?
The first name that comes to mind is Viola Farber, a truly influential artist and teacher. I chased her across the globe until I had the chance to study and be mentored by her! I think there are quite a few now-established artists, especially in France, who probably feel the same way about Viola.
What are you developing at the moment?
Before the pandemic, I was working on a new collaboration with Pet Shop Boys called NAKED (after EMPEROR'S NEW CLOTHES), a brand new musical for which they were writing some of their best work. And then Covid-19 hit and slowed everything down. But we are now revisiting it and eventually, it will get back on track. It just feels way too relevant to let it go just yet.
Also, I'm developing a new dance documentary film in collaboration with renowned photographer and filmmaker Hugo Glendinning. Subject I can't reveal yet but it is close to our hearts and I think it is going to be pretty explosive.
For several years, I've been writing a stage adaptation of the documentaries of American filmmaker Daniel Karslake which deal with the conflict of the LGBTQ+ community, the extreme right and the church. It will have original music by Dan Gillespie Sells (The Feeling and Everybody is Talking About Jamie).
What are your hobbies outside dance?
Travel has always been so close to work for me, that I wouldn't call it a hobby, but travel brings together a love for food and fashion and observing that keeps me more interested in the way it feeds back to my work.
Are there any companies (dance or opera) that you would like to work with that you have not yet?
I definitely want to work more with Latin American dance companies, after so many years in Europe I am craving for a reconnection with my LatinX identity. And there are a good number of amazing companies out there. I'm particularly drawn to the leadership of Eduardo Vilaro in Ballet Hispanico.
Opera North, Santa Fe Opera and Teatro Real in Madrid are companies I'd love to work with. My last work for Opera was when I directed Philip Glass' Les Enfants Terribles for the Royal Opera House at The Barbican in 2017, which opened my appetite for contemporary and brand-new opera.
You are heavily involved in film at the moment, can you tell us something about what it is like to create for film as opposed to stage?
I love both mediums equally. Creating content for the screen is a very different discipline. I was brought up with Montessori schooling, way before it was cool! Thinking visually is integral to that teaching, so I have found in working on film possibilities that I couldn't find on stage. In that sense I like my stage work to be a theatrical experience and my film work to be really cinematic. There is something fascinating about the intimacy and urgency of film. There is great responsibility in understanding the permanence of this medium and the possibilities of reaching out to a completely different kind of audience.
In the last few years, I've been fortunate not only to have been to many international film festivals screening my work but also to be invited to be a member of Juries for Dance Camera West and Dance in Focus Film Festival in Los Angeles, as well being part of the curatorial team of Festival Videodanza de Puerto Rico. Through these experiences, I have encountered and mentored a whole new group of fellow artists and filmmakers that has expanded and enriched my artistic family.
Henry St Clair
Senior Manager, Dance