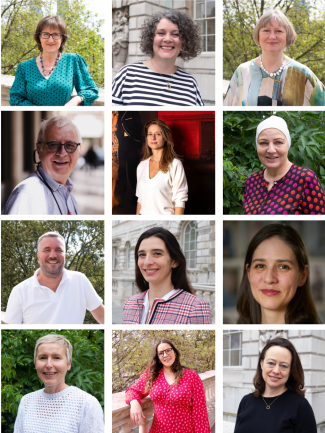 HarrisonParrott to become Employee Ownership Trust

&

Jasper Parrott to appoint new

CEO

after

54

years at the helm
28/9/2023
54

years on from its inception, majority ownership of the classical music and performing arts agency will be passed on to its employees.

Having co-founded the business in

1969

and led it since, Jasper Parrott is now appointing a new

CEO

, handing over the day-to-day running of the company to his daughter, Moema Parrott. She has already served as acting

CEO

since March

2023

and has been with the business for more than

11

years.

This will allow Jasper, who is continuing as Executive Chairman, to focus his time on the creative and strategic vision of the company and artists.

The move sees HarrisonParrott become the first classical music business to place company ownership firmly in the hands of its employees, some of whom have been with the agency for more than

25

years.
London, 28 September 2023 – HarrisonParrott, the classical music and performing arts talent agency co-founded by Jasper Parrott and Terry Harrison in 1969, today announces that it will become an Employee Ownership Trust (EOT). Jasper Parrott will appoint a new CEO after more than 50 years of running the business.
By the first week of October 2023, the majority of the shares in HarrisonParrott will have been sold to the Employee Ownership Trust. This process broadens responsibility across the whole leadership team and places the future of the company firmly in the hands of its employees. The transfer of shares ensures that employees' motivation and interests are closely tied to the future development and success of the business, harnessing their commitment, talent and creativity to ensure continuity.
Jasper Parrott, Executive Chairman, HarrisonParrott Group and associated companies said: ​"When I started HarrisonParrott together with Terry back in 1969, I was possessed by the idea that we could create a new type of management, bringing artists of the highest quality into long-lasting partnerships of unlimited artistic ambition with presenters, audiences and venues that are hungry for great art and life-enhancing musical experiences.
"I could never have imagined how much HarrisonParrott has grown and to be still so passionately inspired by all that my life and work in music and the arts has brought me. As we enter the next phase of our history, I look forward to continue guiding the creative vision of HarrisonParrott, in the full service of our artists and company as a whole.
"I am deeply appreciative of the talent, dedication and loyalty that now three generations of HarrisonParrott employees have brought to this company. It, therefore, feels only right that ownership of this great company should now be shared among all of our staff, so that we can all join together to build the next chapter of HarrisonParrott."
Founded as a ​'two-man operation' in October 1969 and initially representing six artists exclusively, HarrisonParrott has had a landmark impact on the classical music space. Today, the business manages more than 200 artists globally, has an international team of 102 staff across offices in London, Paris, Munich, Madrid, Beijing, and individuals in other important European cities, and represents many of the biggest names in the performing arts of the 20th and 21st centuries.
This year alone, HarrisonParrott currently represents 25 of the artists who performed at the BBC Proms and 10 at the Edinburgh International Festival. Its artists are an integral part of the international classical music festival circuit from Salzburg to Helsinki and Berlin to Aix-en-Provence, and contemporary music and culture festivals, including Glastonbury, Cannes Film, Kinekswiss Love and Bluedot festivals. From 1975 onwards HarrisonParrott has built close ties to the Japanese classical music scene and was one of the first international management agencies to be active in China. To date, its tours and artists have reached every continent but Antarctica. As early as 1970, the agency was already working with the likes of Led Zeppelin in Iceland, and in 1999, with Metallica and the Berliner Philharmoniker for a trip to the Berlin Wall. HarrisonParrott has also been major partners in the development of special festival projects including the four month long Japan Festival in the UK 1991; that same year HarrisonParrott also managed the Festival of Switzerland in London celebrating the 700th anniversary of the Swiss confederation. Jasper Parrott also devised and partnered in the Pierre Boulez Festival in Tokyo in 1995, and Şimdi Now a celebration of Turkish arts in Berlin in 2004.
After more than half a century in business, having endured multiple recessions, seen various governments and a new millennium come and go, and withstanding the huge challenges of Brexit and a pandemic while reaffirming its role as a global leader within the sector, Jasper felt the time was right for ownership of HarrisonParrott to pass to its employees. This comes in light of the significant contribution that staff have made to the growth of the business, many of whom have been with HarrisonParrott for over a decade. As a company built on the individual talent of its employees and dependent on the networks they develop over years and decades at a time, the structure of the Employee Ownership Trust is supremely suited to HarrisonParrott's ambition and a way to futureproof the business.
A key part of the succession plan has seen Jasper's daughter, Moema Parrott, take the reins as CEO and become responsible for the day-to-day running of the company since March 2023. With more than 20 years' experience in talent development, marketing, and acquisitions across music, TV, and film, Moema has already played a key role in expanding HarrisonParrott's international footprint and diversifying new business areas during her 11 years with the company.
Jasper Parrott will continue his role as Executive Chairman, overseeing the artistic vision and long term strategy of the business as well as allowing him to devote more time to his passion that brought him into this business, the identification and nurturing of talented artists.
Moema Parrott, CEO, HarrisonParrott Group and associated companies said: ​"It is an immense honour to perpetuate Jasper's unique vision and legacy. Since joining the company, I have continued to develop its international footprint, which include offices in Munich, Paris and most recently Madrid. As the new CEO, I will stay true to Jasper's core values and our shared artist centric approach, empowering and championing our world-class artists and international teams, with the aim to expand and strengthen the HP Group and associated companies as we focus on building new and diverse audiences. From the wider definition of classical music that characterises PolyArts, to publishing via Birdsong, our touring and dance departments, our goal is to deliver a 360-degree approach to talent management, cementing our position as one of the most important global arts and music management companies now and in the future."
Jasper Parrott
Executive Chairman HP Group & Associated Companies
Moema Parrott
CEO HP Group & Associated Companies | President HP Paris