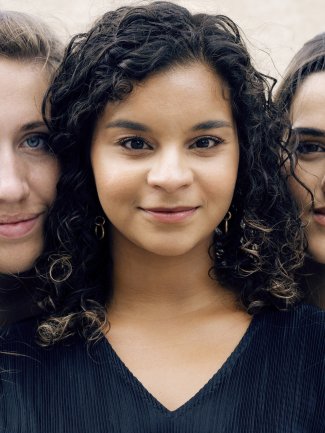 ©
Photo: Jean-Baptiste Millot
VOICE

welcomes Ensemble La Néréide for General Management
4/9/2023
Ensemble La Néréide was formed in 2019 by friends and fellow-sopranos Camille Allérat, Julie Roset and Ana Vieira Leite with a mission to showcase baroque repertoire for equal voices alongside featured instrumentalists. The trio connected while studying at Haute École de musique de Genève and their debut album — Luzzaschi: Il Concerto Segreto is released on 8 September 2023 on the Ricercar label.
VOICE is delighted to welcome this wonderful ensemble of female voices to its roster.
In their debut album, Il Concerto Segreto, La Néréide present an all-Italian programme exploring the last years of the 16th century in the court of Ferrara, where there was an exceptional musical community dominated by a remarkable trio of female voices. This trio was nurtured by the court's resident music master, composer Luzzasco Luzzaschi, and attendance at the concerts was by personal invitation of the Duke of Ferrara only, the repertoire was a closely guarded secret and only partially published in 1601. La Néréide's first recording is centred around these publications, recreating the original conditions in which the works would have been performed, with the accompaniment of harpsichord, originally played by Luzzaschi himself, as well as viol, harp and luth, on which the Ladies of Ferrara would have accompanied themselves at the time.
Shirley Thomson
Director & Head of VOICE