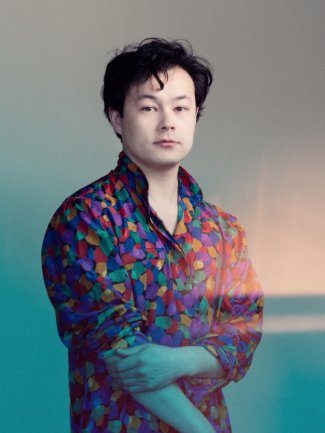 ©
Photo: Camilla Greenwell
Album Release: Broken Branches — 

SEAN

SHIBE

'S

MUSICAL

EXPLORATION

OF

IN-BETWEEN

IDENTITIES
28/4/2023
Guitarist Sean Shibe and tenor Karim Sulayman present Broken Branches, a conceptual album with music ranging from Dowland, Monteverdi, Britten, Rodrigo, Takemitsu, Harvey, and Chaker, to traditional songs from the Middle East, scrutinizing the close cultural and musical ties between East and West. This musical exploration ties in with the artists' personal experience of a dynamic, in-between identity, as they grew up in the West having ethnic roots in the East (Japan and Lebanon respectively). Broken Branches explores the wood of the guitar and its relatives, as well as the splintering of history known as diaspora.
Karim Sulayman has garnered international attention as a sophisticated and versatile artist, and won a Grammy Award for Classical Solo Vocal in 2019. Multi-award-winning guitarist Sean Shibe brings a fresh and innovative approach to the traditional classical guitar, while also exploring contemporary music and repertoire for electric guitar. He continues his exclusive collaboration with PENTATONE after his well-received Camino (2021) and Lost & Found (2022).
"Broken Branches explores a wide range of repertoire offering its listeners the idea that home can transcend one specific place or time. Referencing the final line of Sinan Antoon's poetry in the song Layale Chaker wrote for us, the title reflects the many themes of this album: the wood of the guitar and its relatives, our own family trees, and the splintering of that history as we examine the diaspora, and the attempt to build ​'home' separate of physical borders. On the road less traveled I've found lots of wood to build a home held together by the glue that is music." (Karim Sulayman)
"Broken Branches grew from a discomfort at aspects of repertoire generally explored through art song with the guitar; or perhaps more accurately a desire to present certain repertoire in a way that makes uncomfortable aspects of it clearer… In combination with the pieces on the programme that are necessarily classically performed, I hope that a better understanding of the historical narratives around these pieces leads to an improved understanding of what makes them, in some cases, difficult to grapple with — but that puts forward the case that radical interventions can be a part of a potential solutions package." (Sean Shibe)
The album is released worldwide digitally on streaming platforms and available on 5 May.
Ance Kolibere
Associate Artist Manager