Darren Hassennally — My time at HarrisonParrott
26/1/2023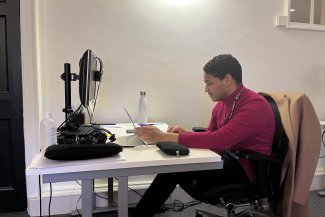 We asked our current HR and Operations Intern to reflect on his time at HarrisonParrott.
What have you enjoyed about your time at HarrisonParrott?
It might a be bit cliché, but the most enjoyment I have gotten from this internship has been through meeting, getting to know, and working with the many brilliant people of HarrisonParrott, whether it be everyone in Admin or Artman.
I've always seen myself as a people person, so it's always been a pleasure getting to meet new people at any opportunity, especially when I have given the new joiners the Somerset House tour on their first day and gotten to know them better.
Perhaps what I've enjoyed most about the role is when someone has come to me for help with something and I've not only helped them, but made a genuine, positive difference in their day.
I've loved it here, so it'll be tough not getting to see everyone on a regular basis.
Do you feel you have grown during the internship?
A lot of my growth is virtually all down to Nichole. I don't think I could have had a better manager/​mentor/​leader over these past six months because she has gone above and beyond for me.
She's taught me a lot. I'd never logged holiday requests, worked on a company organisation chart, or even ran a recruitment process and interacted with candidates before to name a few things, but I've learnt all of that and much more because of her.
I could go on about how she taught me the essentials of the role, but my growth as an intern came from her belief in me that she had in me from day one.
I've never shared this with anyone before, but I didn't have the best of starts to life at HP. Everything was a bit overwhelming initially, but she didn't lose patience, and she helped me get through that rocky patch to grow into the role.
At our summer party, she told people how proud of me she was with my progress after turning things around. I barely knew her at that point, and vice versa, but she had confidence in me from the get-go and it made me believe in myself to develop on this internship and last the full 6 months when I thought I wasn't going to last another 6 days.
One of the things I remember from my interview is when she told me that she always sticks up for her people no matter what. It was a big statement to come out with, but she has delivered it on time and time again. She gained my respect from the offset and it's easy to work for someone and then grow under their leadership when you have a gigantic level of respect for them.
Have you learnt any new skills during your internship?
I've learnt how to become very organised in my time here. Nichole implemented a document for me to track my progress and I note down every task I need to get done for the day on it before working on them.
Initially, it made no sense to me, but now it's the first tab I open, and I populate it daily with the responsibilities I have for the following day. It might sound silly, but even if I know I must do something, sometimes I can't do it unless I see it on the list which keeps me honest and very organised.
Perhaps the most surprising skill I've learnt is how to run and manage an office by myself from an HR perspective. Here at HP, I have had to open up all three rooms in the morning, manage all incoming and outgoing post daily, and manage the office supplies whether those be notepads, pens, envelopes, IT equipment, or even Nespresso pods.
It was a bit daunting when Nichole told me I'd be on my own and managing the office for the first time, but I quickly got used to and enjoyed it.
I'm thankful to HP and for my experiences here because everything I have learnt will definitely help me out not only in my next role, but for the rest of my working life.
Do you have any tips for people looking for internships?
My advice to anyone looking for an internship would be to go through Creative Access. Fun fact, I never even knew this internship existed – I only found out about it because someone from Creative Access reached out and recommended it to me – without her, I'd have never been at HP!
Because of them, we've had some real top talent join the company including Megan, Mia, Miranda, and Alisha to name a few.
My last bit of advice is to reach out to those around you for help when you need it, especially when you feel worried about doing so.
There are plenty of people around you with more experience who can always offer their expertise to help you when you run into some trouble and in the process, you'll learn vital lessons through the experience, and especially here at HarrisonParrott where there is no shortage of people who want to and can support you when needed.