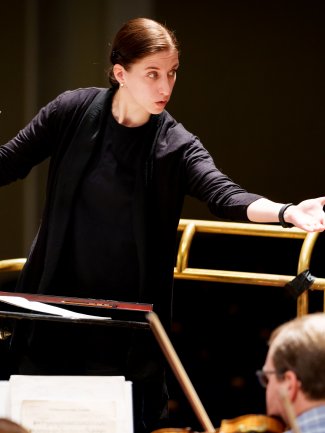 Maria Seletskaja joins HarrisonParrott Dance for general management
1/11/2022
HarrisonParrott Dance is delighted to welcome Maria Seletskaja to its roster for general management.
Maria Seletskaja is a Conductor-in-Residence with The National Ballet of Canada. With her unusual background of being an ex-ballerina and a graduate of the Estonian Academy of Music and Theatre (Master's degree in orchestra conducting), Maria has captured a lot of attention and has guested with several ballet companies.
In the current 2022/23 season, Maria joins the National Ballet of Canada for their winter season's production of Prokofiev's/J.Kudelka's Cinderella and will debut with San Francisco Ballet in Prokofiev's/H.Tomasson's Romeo and Juliet.
Last season, Maria enjoyed conducting debuts with Royal Danish Ballet, Ballett am Rhein and Estonian National Ballet. Her return to the Stuttgart Ballet after several years to conduct a revival of Tchaikovsky's/M.Haydée's The Sleeping Beauty was very special.
In December 2021, Maria debuted with Estonian National Symphony Orchestra, conducting a New Year's concert, broadcast on national TV and viewed by 100,000 people nationwide.
Henry St Clair
Senior Manager, Dance