Ken Fairbrother — My Relationship with Music
1/11/2022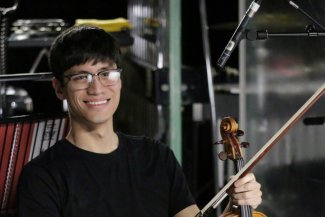 A personal blog article from HP Foundation Trustee Ken Fairbrother
When people ask how I got into music, I always find it difficult to single out one source. Although neither of my parents are musicians, I grew up in a household that embraced classical music and particularly my own love of classical music. I was fortunate to develop my musical education through the violin at music schools and the Royal Conservatoire of Scotland's (RCS) Juniors which would have been possible without support from the Scottish Government's Aided Places Scheme and RCS Transitions but most importantly the sacrifices my parents made to support my music passion.
I continued my performance studies at the RCS and I also started spending my spare time interning at the Royal Scottish National Orchestra's Artistic Planning team. Although cut short by the COVID-19 Pandemic, this experience opened my eyes to the complexity of the performing arts. Around this time, I started questioning the relationship between identity, culture and the performing arts acting as a voice for individuals and groups.
In my roles as Vice-President and now President of the RCS Students' Union, I have been able to work with an incredibly talented and diverse group of artists. Working with these students and committees such as Fair Access is such a rewarding experience to see the positive impact inclusive access to the arts makes but it also highlights the importance for us not only to continue this work but to continue pushing boundaries and finding creative solutions. I also have the pleasure of sitting on the Board of Trustees for two fantastic organizations, the Harrison Parrott Foundation and the National Youth Orchestras of Scotland, championing diversity and Inclusion and providing young people access to the performing arts. It's been fantastic to see in recent years a greater number of initiatives to break down barriers to access music for underrepresented groups. Year on year participants show just how important and beneficial these initiatives are.
The initial hurdles to accessing music are often the hardest to overcome. Financial barriers and perceived job insecurities such as unsociable hours, uncertain employment and low pay in the music industry can make the arts an impossible or unappealing career path for both young people and their supporting network. Self-identity and cultural stigma however, can often be the biggest barrier to the arts. The film Billy Elliot, although fictional, is loosely based on the true story of Baritone Sir Thomas Allen and highlights the real barriers that many young people face. Professor Stephen Broad, RCS Director of Research and Knowledge Exchange explains eloquently: ​"Transformative initial experiences and a genuinely diverse arts scene are both vital because a prerequisite for fair access is being able to see a place for yourself in the arts-to be able to imagine that someone like you can find a home in that world".
It can also be noted that there is a far greater amount of diversity at the earlier stages of a persons art journey and that each step of the journey the demographics become less diverse showing that there is a serious issue in retaining underrepresented groups. Creating a more inclusive Classical Music- A paper written for Arts Council England noted that ​"There is limited evidence of initiatives which affect change in the diversity of the workforce in classical music". The paper notes that there is a large number of initiatives that provide opportunities for underrepresented groups, however there is a lack of evidence and data to determine the best course to support the retention of underrepresented groups.
As we go through an unprecedented era of socio-economic uncertainty, individuals and organizations must find ways to collaborate in new and creative ways, share data and success stories, and to work together towards shared goals. Now more than ever is the time to question current practices and experiment and innovate to ensure a sustainable and accessible industry. Having worked with children and young adults studying music and the performing arts for the past couple of years, I can confidently say that the performing arts will be in good hands and has an incredibly exciting and inclusive future, a future of individual and diverse voices unified by a collective desire to collaborate and share identities and cultures.
This blog article is part of the HarrisonParrott Foundation's Music Access Awareness Week 2022