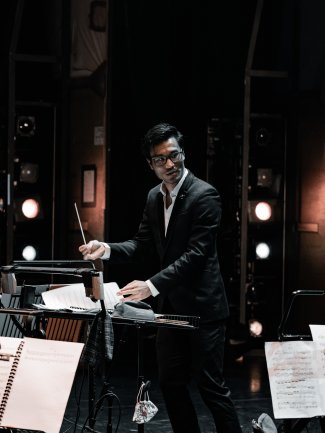 The Australian Ballet announces Jonathan Lo as its new Music Director
14/10/2022
We are delighted to announce that conductor Jonathan Lo has been appointed Music Director of Australian Ballet. Jonathan replaces Nicolette Fraillon when she steps down from the role in December, ending a 20-year tenure.
Lo has been guest conducting with The Australian Ballet during the company's Romeo and Juliet season at Arts Centre Melbourne and will commence his new role on 16 January 2023.
The Australian Ballet's Artistic Director David Hallberg said: ​"It is undeniable that ballet and music are symbiotic; without music, ballet does not exist. The role of Music Director is integral to our success, and I am thrilled to welcome Jonathan to this vital position. Jonathan's exceptional talent and enthusiasm for our artform will ensure the musicians in the pit and dancers on stage continue to deliver performances of the highest quality. I personally look forward to welcoming Jonathan as a creative partner, and to working together as The Australian Ballet enters its next exciting chapter."
Jonathan Lo said: ​"I am thrilled to be joining The Australian Ballet as Music Director. Ever since my first contact with the company and its associated orchestras, I have been excited by the world-class level of artistry, warmed by the beautiful humanity of its artists and staff, and inspired by David Hallberg's leadership and drive. I must also pay tribute to my colleague Nicolette Fraillon for the remarkable 20 years' service she has dedicated to The Australian Ballet. As the company's longest serving Music Director, her incredible tenure will surely be go down as a legendary chapter in the company's history.
I look forward to bringing my experience as music director and conductor from my work with companies around the world to The Australian Ballet, and, in turn, flying the flag for this most magnificent company in my future international guest conducting engagements. I thank David for the trust he has placed in me, and I cannot wait to be a part of the company's ambitious and electrifying future."
Henry St Clair
Senior Manager, Dance