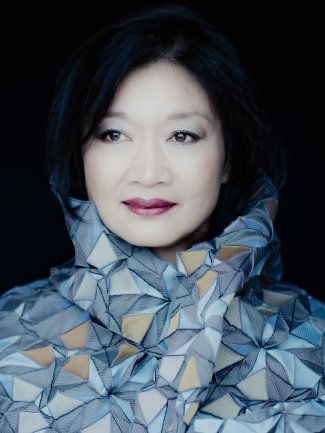 HARRISONPARROTT

WELCOMES

PIANIST

MARI

KODAMA

TO

ITS

ROSTER

FOR

GENERAL

MANAGEMENT
26/9/2022
We are thrilled to welcome pianist Mari Kodama to our roster for general management. She is consistently praised for her virtuosity in a wide range of repertoire, including orchestral, chamber and solo works by composers of all periods. She is also known for her natural musicality, tonal expressiveness with a clear form, and as a benchmark Beethoven interpreter.

In the 2021/22 season, Mari Kodama showcased her diverse talents with various international concert appearances, such as Tokyo Symphony Orchestra (Krzysztof Urbański), Colorado Springs Philharmonic (Cabellé Domenech) performing three Beethoven Concerti in one evening, and Philharmonisches Staatsorchester Hamburg (Kent Nagano). Other highlights of the season include the world premiere of Rodolphe Bruneau-Boulmier's new piano concerto Terra Nostra, broadcast on Deutschlandfunk with Deutsches Symphonie-Orchester Berlin under the direction of Kent Nagano at the Berlin Philharmonie.

As a further demonstration of her versatility, she plays a central part in the hugely successful ballet production ​'Beethoven Projekt II' (John Neumeier), which re-opened the Staatsoper Hamburg after months of COVID closure and which will be revived this season.

In recital, she collaborated with Markus Hinterhäuser, featuring Messiaen's Visions de l'Amen. She also organized the Beethoven Festival ​'a life in a Day' in San Francisco, and presented all 32 of Beethoven's piano sonatas over two days by 14 different soloists.

As a recording artist for Pentatone and Berlin Classic, she made over 20 recordings from Beethoven to Martinů. Her recording of Beethoven's 32 Sonatas and five Concerti made her a benchmark Beethoven interpreter.

In addition to her performances, Mari Kodama also plays an active role as a music festival artistic director. She co-founded the Forest Hill Musical Days Festival, a chamber music festival in San Francisco, with her husband Kent Nagano, and she has also led the chamber music series at the Orford Music Festival. In 2018, she assumed artistic directorship at the Festival Tra Luce e Sogno in Postignano, Italy, for which she secured artists such as Christian Gerhaher, Matt Haimowitz and Gerold Huber, among others. Mari Kodama is a Steinway Artist.

She is managed by Colbert Artists Management in the US and M. Hirasa in Japan.
Iarlaith Carter
Associate Director, Artist Management
Yukiko Shishikura
Senior Artist Manager