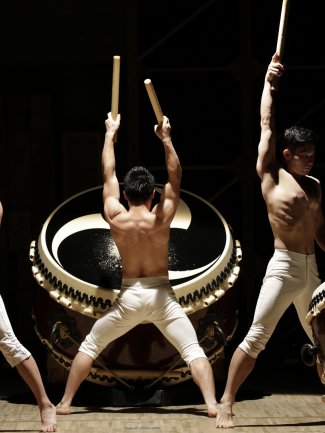 Kodo embark on biennial Europe tour celebrating

40

th Anniversary with Tsuzumi
3/2/2022
One Earth Tour 2022: Tsuzumi, the new anniversary production features some pieces composed in the 80's when the group first formed but also features some of the recently composed works of the younger Kodo members showcasing the whole history of Kodo.
Central to Kodo's acclaimed performances is the Taiko; a traditional Japanese drum that is embedded in the country's ancient culture. The rhythmic sounds of the Taiko can be heard at community festivals and religious ceremonies across the country. Since 1980s Kodo reinvented the Taiko as a performance instrument and kick-started a global obsession with it. Kodo's mission is to bring Taiko to all corners of the world and spread the message of its community; to find a peaceful and harmonious balance between humanity and the natural world. Since its inception in 1981, the group has performed over 6,500 live shows across five continents including at Nobel Peace Prize Concert and numerous World Cup shows.
HarrisonParrott is delighted to work with Kodo on this year's performances at Katowice's NOSPR (4 Feb), Zagreb's Lisinski Hall (6 Feb), The Anvil Basingstoke (9 Feb), Manchester Bridgewater Hall (11 Feb), Birmingham Symphony Hall (13 Feb), Sunderland's brand-new The Fire Station (16 Feb), Saffron Hall (18 Feb), Paris' Salle Pleyel (4 – 5 March), Lille's Théâtre Sébastopol (7 March), Tours' Palais des Congrès (10 March), Lyon's Amphithéâtre (12 March) and Helsinki's Savoy Theatre (16 – 17-18 March).