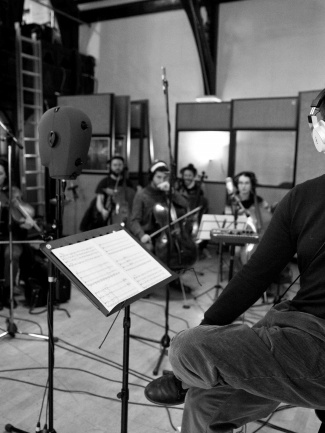 ©
Photo: Heathcliff O'Malley
World premiere of Joseph Davies' violin concerto Parallax
28/1/2022
The world premiere of Joseph Davies' violin concerto Parallax will be performed on 28 January at BBC Hoddinott Hall, Cardiff by the BBC National Orchestra of Wales and Daniel Pioro under the baton of Ryan Bancroft alongside a programme featuring Sibelius' Tapiola and Symphony No. 4 in A minor.

Sadly, due to covid restrictions in Wales, this is now an online concert but we're delighted that it will be streamed live at 2pm here.
About the piece
Parallax is the phenomenon whereby faraway objects appear to move more slowly than those closer to a moving observer, important in astronomy for measuring the distance of objects in outer space. Often in this piece similar materials seem to be moving at different rates simultaneously, as if at varying distances from the listener.
In ​'Pulsars', after establishing the most basic and relentless of pulses, the solo violin dances and sings its way through a labyrinth of harmonic and rhythmic downward spirals. The fragmentary material (including a faint echo of a famous violin concerto) gradually coalesces into an orchestral climax followed by a pent-up cadenza for the soloist. Finally the violin's frantic energy rubs up against an ominous melodic reminder from the orchestra, causing the movement to explode.
'Nebulae' is a musical drift through the unimaginably vast clouds of stardust where we and everything we know originated. After getting lost amongst the stars, the soloist suddenly warns of danger ahead: we are being slowly sucked into a black hole, triggering a cataclysmic vision of the Big Bang and the first minute of the universe. Suddenly we are back where we started, calmly drifting through the stars, until ​'Gaia' emerges from the mist, a blue planet teeming with life, love and suffering sung by a heartfelt chorale from the violin.
This fragile world suddenly shoots ​'Cassini' into space, a tiny probe (the violin) which launches into a series of orbital dances with planets and moons. Eventually it turns its camera toward Gaia, now millions of miles away, the chorale reappearing in the brass, leading to a wave of orchestral catharsis. Its mission complete, Cassini receives the signal to self-destruct and enters the atmosphere of a giant planet, burning up into silence.
- Joseph Davies
Milly Paine
Publishing Manager