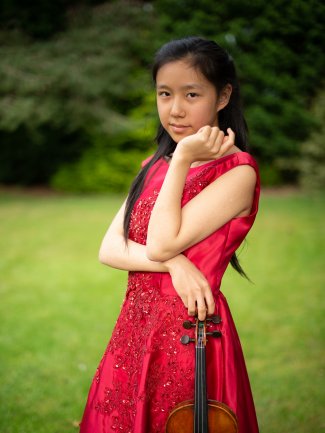 Leia Zhu announced as Artist in Residence with London Mozart Players
30/9/2021
London Mozart Players (LMP) has announced Leia Zhu as Artist in Residence. In this role Leia will embed herself within the orchestra, enjoying opportunities to perform chamber music as well as taking solo roles. Leia will play a crucial role in LMP's residencies in Croydon and Hastings, inspiring and motivating her peers through educational projects.
On the appointment Leia Zhu said:
"Two years ago I enjoyed my first collaboration with LMP and we connected with immediate sparks. We planned many projects for the following year that were unfortunately cancelled due to COVID, so I am really looking forward to performing Tchaikovsky's Violin Concerto with them at Fairfield Halls on 9 October, and to work closely with them thereafter. The support, nurture and family-like environment with LMP is a dream for any young musician and I feel so privileged to be a part of this fantastic initiative and super excited for the perspective of working with one of the best chamber orchestras. Together with the London Mozart Players, I look forward to not only entertain regular concert goers but also bring classical music to communities and schools, especially to young people around my age. Exciting times ahead!"
Julia Desbruslais, Executive Director of the London Mozart Players, commented:
"LMP has a long tradition of nurturing young stars at the beginning of their careers, and we are thrilled to be working with Leia, her family and HarrisonParrott to ensure that this young star has the perfect environment in which to hone her outstanding musical ability. There are such pressures on talented young people these days, and we intend to support Leia at this crucial time so that she can feel at home with LMP, and take whatever help she needs from us in the spirit of collaboration and support. Our concert at Fairfield Halls is the perfect start to this nurturing relationship!"
Leia Zhu begins her residency on Saturday 9 October performing Tchaikovsky's Violin Concerto at Fairfield Halls, with conductor Jonathan Bloxham, as part of the orchestra's ​"Spotlight on…" series. The concert will also be available to stream online for a limited period afterwards via the LMP website.
She debuted this summer with the London Symphony Orchestra and Sir Simon Rattle, as part of the orchestra's annual BMW Classics concert in London's Trafalgar Square, and further debuts this season take place with Lucerne Symphony Orchestra and in recital at Tonhalle Zürich.