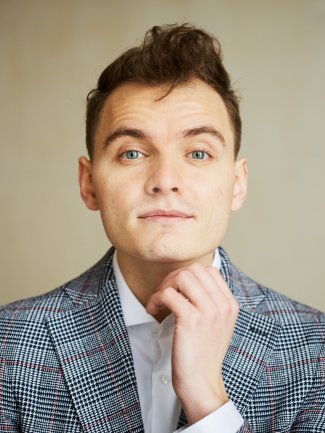 HarrisonParrott is delighted to welcome conductor Paweł Kapuła to its roster for General Management
15/3/2021
Hailed by Polish Radio as ​"a real hope for Polish conducting", Paweł Kapuła is one of the most exciting and finest conductors of the younger generation, known for his excellent conducting technique and fresh and highly captivating interpretations. Since his highly acclaimed debut with Warsaw Philharmonic Orchestra in 2016, when he stepped in for Stanisław Skrowaczewski, he has conducted all major orchestras in Poland.
In February 2021, he was appointed Principal Guest Conductor of Pomeranian Philharmonic in Bydgoszcz and has worked with orchestras such as the Polish National Radio Symphony Orchestra (NOSPR), Sinfonia Varsovia, Polish Orchestra Sinfonia Iuventus, Capella Bydgostiensis, the Beethoven Academy Orchestra as well as the Philharmonic Orchestras of Gdańsk and Kraków. He appeared in festivals such as La folle journée in Warsaw, Probaltica in Toruń and Bydgoszcz Music Festival, where he conducted Beethoven's Symphony No.9 with Pomeranian Philharmonic at the final concert in October 2020.
In May 2021, he will act as Assistant Conductor to Matthew Halls at Wiener Festwochen for a new production of Mozart's La Clemenza di Tito along with the Mozarteumorchester Salzburg and Arnold Schoenberg Choir.
Born in 1992 in Rybnik Poland, Paweł Kapuła studied conducting with Tadeusz Strugała and Stanisław Krawczyński at Krakow's Academy of Music. He was Assistant Conductor to Jacek Kaspszyk at the Warsaw National Philharmonic Orchestra and to Andrey Boreyko at the Belgian National Orchestra.
Karin Schwarz-Feyhl
Associate Director, Artist Management