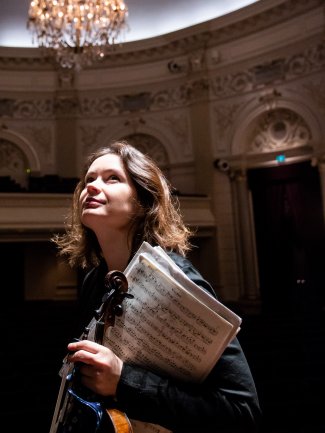 Patricia Kopatchinskaja Q

&

A
23/4/2020
The violinist explains her musical philosophies
What are you working on at the moment?
The biggest challenge in any artistic life is to reinvent oneself and not to rest on previous successes. So the real creative work is not what we play today, tomorrow or next season, all of which is already settled, but to find out what and with whom we can imagine and find our next dreams.
What support do artists need from the people around them, especially their managers?
A manager is the interface between the artist and the concert organisers. To be successful a manager has to have a complete understanding and believe in the artist's aims and possibilities. In my case, they have to make my mission their mission. This is more difficult than managing an artist who only plays mainstream repertoire in a normal way.
HP is like a family. Ariane Levy ‑Künstler and Jasper Parrott are not only interested in having success, but in the constant development in a dialogue, and daring and complex projects. We inspire each other and dream together. In tough moments in my life, I know I am not always easy. They have never put me down or lost faith, always looking only forward with a positive spirit. These are ingredients for a lifelong collaboration.
How hard is it to sustain a career playing the violin?
The violin is much more demanding on the motor apparatus than the piano or the cello, and few violinists can play well into old age. I began to have serious arm pain problems at 38 and I had to cancel many concerts for two months. Suddenly having so much free time, which I never had before, was one of the biggest presents of my life. I fulfilled my dream and learnt the speaking part of Schoenberg's Pierrot Lunaire. I always loved this piece, but I never thought it possible to perform. I started to speak it, combined with playing several pieces on the violin. It's a miracle, but we succeeded with my completely new role. By taking away the pressure from my arms and focusing on my health, we expanded our thinking into a more adventurous future.
Who were your greatest musical heroes growing up, and why?
I never had gurus, heroes or idols.
Your performances are so free and expressive. How do you know how far you can go? Is there a difference playing music by living composers and historic ones in this regard?
I think whenever one dares in music, one can never go too far. Any rules can be broken because music making is an exploration, a dream, a mystery, an experiment with an uncertain outcome. I don't make a great difference between living and dead composers. Whether a composer grants their music the freedom to be touched differently or prefers to strangle the performer if they allow themselves liberties, every creator wishes for the babies the most creative performer and fruitful surrounding. Of course, there's always a mix of the nature of the performer, the medium of sound and the piece as conceived material. The bigger the personality of the performer, the stronger the friction between the piece and their imagination, and the weaker the personality, the more neutral and replaceable is the result. With dead composers the difference is that you always have lots of critics who know better; with a living composer you can always ask them.
If you had superpowers, what changes would you make to the classical music world?
Global heating and mass extinction put a big question mark behind this question. If I had superpowers, I would immediately introduce a heavy carbon tax worldwide, and forbid music competitions and bar lines.
Ariane Levy-Künstler
Associate Director, Artist Management