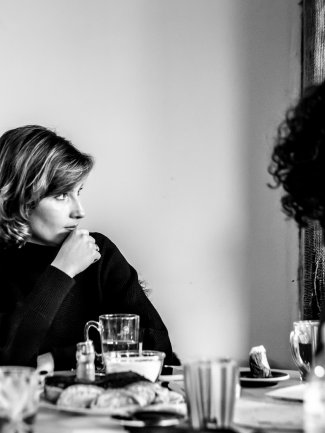 Lisa Batiashvili hosts special Audi solidarity concert
14/4/2020
On 14 April artistic director of the Audi Summer Concerts, Lisa Batiashvili, together with other renowned musicians, is giving a ​'solidarity' concert on 14 April which will be streamed live from Audi's press shop at 19:00 BST. This is part of the international #AudiTogether campaign.
Lisa said: ​"Music connects people across borders. We are sending this message to the world from Audi's home and hope to present a moment of optimism and joy for many people. By playing a concert live at such an unusual venue and sharing it digitally with our audience, we are opening up new perspectives."
Audi's Presswerk (press shop), will be the concert hall for the refined sounds of classical music, as during the factory concerts held in 2012 and 2015. This time, however, a small group of musicians will sit directly between the huge presses – without a stage and without an audience. Only the cameras for the live streaming will accompany their performance, giving the audience a glimpse behind the scenes.
Performers and programme:
Lisa Batiashvili will be accompanied on stage on 14 April at 7pm (BST) by the oboist and conductor François Leleux.
The other performers are cellist Maximilian Hornung, his partner the violinist Sarah Christian, concertmaster of the Deutsche Kammerphilharmonie Bremen, and Jano Lisboa, the solo viola player at the Münchner Philharmoniker.
The programme consists of works by Ludwig van Beethoven, Johann Sebastian Bach, George Frederick Handel and Wolfgang Amadeus Mozart. The presenter of the programme is Alexander Mazza
Ed Milner
Associate Director, Artist Management