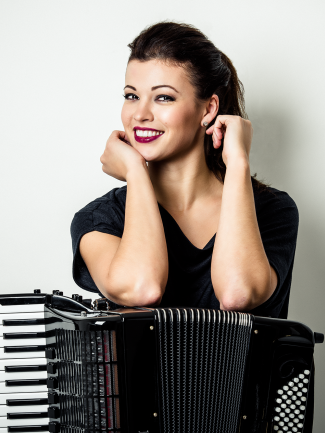 Ksenija Sidorova: Tuur Prophecy
11/3/2020
On the Tonhalle residency:
I've worked on many projects in Switzerland, but this is my first time playing with Tonhalle, and I'm very excited about this special relationship, which includes a residency of three concerts in March.
The idea of playing Erkki-Sven Tüür's Prophecy concerto came because I'd performed it on tour with Paavo Järvi, and it seemed like a nice idea for Paavo's new orchestra to experience the accordion. I have performed Erkki-Sven Tüür's Prophecy concerto on several occasions with Paavo and different orchestras before, therefore it was a natural decision to bring it to Tonhalle. I'm also presenting a chamber music recital with my friends the violinist Alexander Sitkovetsky and pianist Claudio Constantini, with whom I've played many times. It is a tango soiree, which will be more relaxing and jazzier, so the two programmes will be like North and South which is exactly how I love presenting the accordion to audiences, as both versatile and diverse. It's exciting to introduce the accordion in this way.
People are usually quite afraid of new things – whether it's food, theatre or music – and it's the same with classical audiences. They may come to my concerts with a shade of doubt. Since I started my career, I've learnt that you have to win over your audience. They don't know what to expect and you need to show them everything you've got and demonstrate the potential of the accordion.
The Erkki-Sven Tüür concerto does this to maximum effect. He found a language for the instrument that sits perfectly with an orchestra, blending or standing out when necessary. Tüür was a rock musician in the 70s, and in this concerto, you can hear it in how he uses the bass and his rhythmic structures. It's an impressive piece with a huge sound world. Sometimes you don't even know where a particular sound is coming from – it's like a shadow sounding like the shadow of another instrument. I like how Paavo interprets it, every time his interpretation is fresh, with much attention to detail. Yet it is always fun, and even though it is not an easy piece for the orchestra, each player enjoys it, since it is quite different from the usual violin or piano concerto.
Our Tango soiree is focused largely on the music of Astor Piazzolla, but it also includes other tangos such as Jacob Gade's Jalousie, and even a specially written Latvian tango for this project by Arturs Maskats .
I enjoy playing different styles of music. On this occasion something as contemporary as Prophecy concerto and the Tango Soiree. I find myself in a different frame of mind preparing for a tango night, then playing a contemporary concerto. Piazzolla´s music is best explored within a chamber group and much of it changes depending on the dialogue between musicians, whereas Erkki-Sven´s piece requires constant practise and physical preparation. I would say that technically it is one of most challenging pieces that exists in an accordionists´ repertoire. It was originally composed for the button accordion (buttons instead of a piano keyboard on the right-hand side) and required minor adjustments and lots of practise to play certain passages which seemed quite impossible. In the end, ideally, the audience should not be aware of the ways a performer achieves something and the outcome should be natural.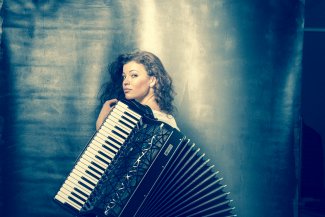 On Paavo Järvi:
Paavo is a truly wonderful conductor and now a dear friend whose advice not only in music, but in life, I try to take on board! When I arrived at our first rehearsal with his Parnu Festival Orchestra I was terrified to be performing with arguably one of the best conductors of our time. Right after the first notes were played all my fear had disappeared. He makes a soloist feel ´at home´ with any orchestra, on any stage and in any circumstance. Such a natural musician, he not only comes up with great ideas but accommodates a soloist in the best possible way. It's an absolute honour and pleasure making music with a conductor of such calibre and with so much experience. As a soloist I feel it broadens my own mind and spectrum.
On Maskats' Concerto Premiere:
Arturs Maskats is writing a new concerto for me with the Latvian National Symphony Orchestra to be performed in June 2020.
The accordion has huge potential in chamber music, which can help us reach a wider audience. Someone who goes to orchestra or string quartet concerts might not normally buy tickets for an accordion performance, but if the accordion pops up as the guest of a string quartet then they are introduced to the instrument and might eventually come back to an accordion solo recital (this is where I think the future of accordion is, as well as in new music.)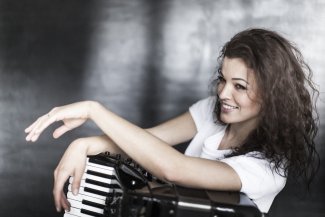 As an advocate of new music, I firmly believe that the future of classical accordion lies in new repertoire. We need new repertoire because the instrument is still developing, so new language is being created every day. Every accordionist has a responsibility to make any new music playable for other people, so that the piece goes on and has a life after the first performance. When I work with composers on new pieces, I usually start by explaining the accordion and what the differences are with the instruments of the 1940s or 1950s, because they have developed a lot since then, and are still going through changes.
When I started working with Arturs Maskats, he wanted to know basics about the range, the registers, and the different keyboards I have (modern classical accordion has a switch in the left hand side which allows us to have not only pre-fixed chords but also single notes, a so-called Bariton Bass) and how these work.
I feel that a lot of contemporary music is hard to connect with at the first hearing, but Maskats´ sound world is so picturesque that is should appeal to a wide audience. I'm looking forward to seeing what Arturs will come up with and what the ideas are behind the concerto.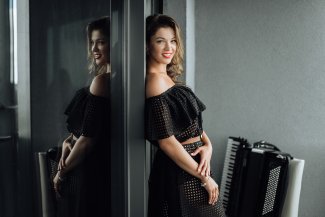 Advice:
My Spotify account has a huge variety of music in it, ranging from Bach to R&B to contemporary classical. At my stage of life, I enjoy all of these different styles.
Part of being a musician is about constantly enriching your knowledge, and as instrumentalists, we have to reinvent ourselves. We have to adapt and evolve, being aware and sensitive to whatever is around. There is so much happening, so fast, and you have to be alert, and apply what you discover. It's not easy.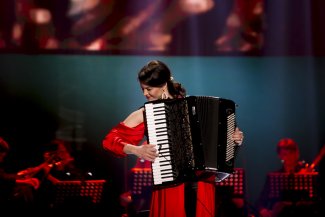 Talk to the audience. You can't explain everything, but it's nice to give a little piece of information, because it connects you to them. It helps to share the music, for the audience to understand more and have a better experience. There's so much that people don't know about music – even well-known music – and even little facts can help the audience unwrap a piece and understand it better. I'm happy that the barrier between the audience and performer is vanishing.
Don't waste your time – that's my ultimate advice. There's so little of it and it slides past so fast. My daughter is growing up so quickly – she's already holding her own glass to drink without my help, for example, and I ask myself, what have I learnt? What changes have I made? If I were a student again, I would tell myself to be very open minded, to try different things, and not to be afraid of making mistakes. And value your time, because it's precious!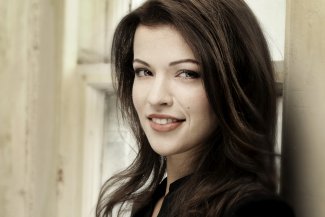 Charlie-Rose Blockley
Manager, Composers & Artists